Ever hear people say they've never experienced travel on an airplane? Flying through commercial airlines is the norm now; we have all tried it. In 1996, Concorde's flight from New York to London recorded a significant cut in travel time, halving from 6 to only 3 hours. It flew at twice the speed of sound, going down in history as the airplane's fastest flight. But, flying on a commercial flight is different from flying on a chartered private aircraft. The price for traveling in an airline is a fraction of the cost of traveling in a private airplane. For example, flying in a business class in a Boeing 777 aircraft from Dallas Fort Worth airport to London Heathrow airport is around 6000 USD or more depending upon the year. Compare that to flying in a private heavy jet on the same route: approximately 70,000 USD or more. So why should you plan to charter a private jet when the cost is exorbitant? Let's find out.
Private aircraft charter serves the essential purpose of saving time. Time is of intangible value and priceless beyond enough saving. Especially now that climate change is a governing concern for our decisions, it still pales compared to the demand for time. The majority of our clients are businessmen, traveling to sustain healthy working environments and to create employment opportunities around the globe. Companies with multiple executives who need to traverse trans-continentally cannot afford to lose connections or fly for international conventions and board meetings through varying airlines. It makes perfect sense for these business executives to travel on personalized schedules, arrive fresh at their destinations to continue their work and then jet on to their next destination. On average, a private jet will save every company executive 10 to 20 days on travel time alone. Company productivity, profit and employee health gain exponential trajectory through this. Private aircraft are now the backbone of many industries, including the tech and commodity markets of Walmart, Costco, Nike and others.
But does this mean that only business executives should fly privately? Factually, no. Most high net worth (HNW) individuals choose to fly on personal airplanes or hire airplanes to travel with their families and friends for vacation. They do this for one simple reason. HNW individuals get to spend the two hours they would have spent waiting at the airport with their families. Would you rather spend extra hours waiting in line at airport security checkpoints or a beach in Cancun? Your choice to make. If you value time, then you should hit up private jet charters. Now let's look at some of the things to keep in mind when planning a jet charter.
How to Choose a Private Jet
Private aircraft come in many sizes with different capabilities. Each aircraft manufacturer has carved its niche in different cabin sizes. They are known for performances like:
Short field landings
Take-offs
High-speed cruise
Widest cabin
Longest range
Lowest cabin altitude
The Falcon 7X manufactured by Dassault Falcon is a perfect example of an all-rounder. It is needless to say that not all private airplanes are built the same, so how do we select a private jet for our trip? Here, a jet charter broker like Icarus Jet comes in to make an educated decision. The variables in private air transportation are:
Number of passengers.
Destination/departure locations.
Duration of the flight.
Number of bags and their weights.
Safety ratings of the air carrier.
The goal here is to be most efficient with the trip. Efficiency would involve safety and cost-effectiveness, and for that matter, we cannot fly in a large cabin airplane if only four passengers travel on a 2 hours long flight. Cost of operation differs between a Very Light-Jet and a Light Jet, Mid-size and a Heavy Jet.
Depending upon the mission of the passengers, we select an optimum aircraft for the trip. A flight from Dallas Love Field to Las Vegas with eight passengers can go with a Citation V for 19,000 USD, or the Challenger 300 aircraft for 40,000 USD or more. We would suggest the Citation V as both aircraft will arrive simultaneously yet save you close to 20,000 USD on this particular route. Consider a hunting trip in the South of Texas, where ranches have short runways, and most flights are only an hour or more with a group of six to eight passengers. We often use the King Air 350 Turbo-Prop airplane, an industry stalwart and a leader in safety ratings on trips like these. Not only does it fly fast, but there are no other private aircraft for charter that can land on short runways at remote locations. Plus, the cost is about 10% lower than that of a chartered private jet with restrictive short field landings and limited remote operations.
Icarus Jet deems Safety Ratings of air charter services as a crucial selection criterion. The ARGUS or Wyvern Wingman safety ratings confirm that the aircraft operator has the highest standard for crew training and has had no incidents or accidents in its history.
Finding the right Airport for Arrival and Departure
The selection of an airport for departure and arrival vitally impacts the price of the charter flight and additional services. It only makes sense to ask for a departure from the nearest airport to your house, but in reality, that may not work out in your favor. Most international airports like Dallas, Fort Worth, or London Heathrow airports are the busiest airports in the world and predominantly serve Large Airliners. These big airports are not suitable for general aviation aircraft. They deter private aviation airplanes by levying higher landing fees and imposing stricter slots for arrival and departure. This is why it is easier to use Dallas Love Field or Adisson Airport in Dallas. In London, it is easier to drive an extra twenty minutes to London Luton or Farnborough Airport. Saved time on departure and arrival will cost a whole lot less than departing from a major international airport. All airports have restrictions on their operations that include their working hours, fuel and passenger services, and whether they can accommodate international flights that require clearing customs and immigration. It is very prudent to ask your charter analyst about the perfect airport for your scheduled flight.
How to Plan for the Day of Travel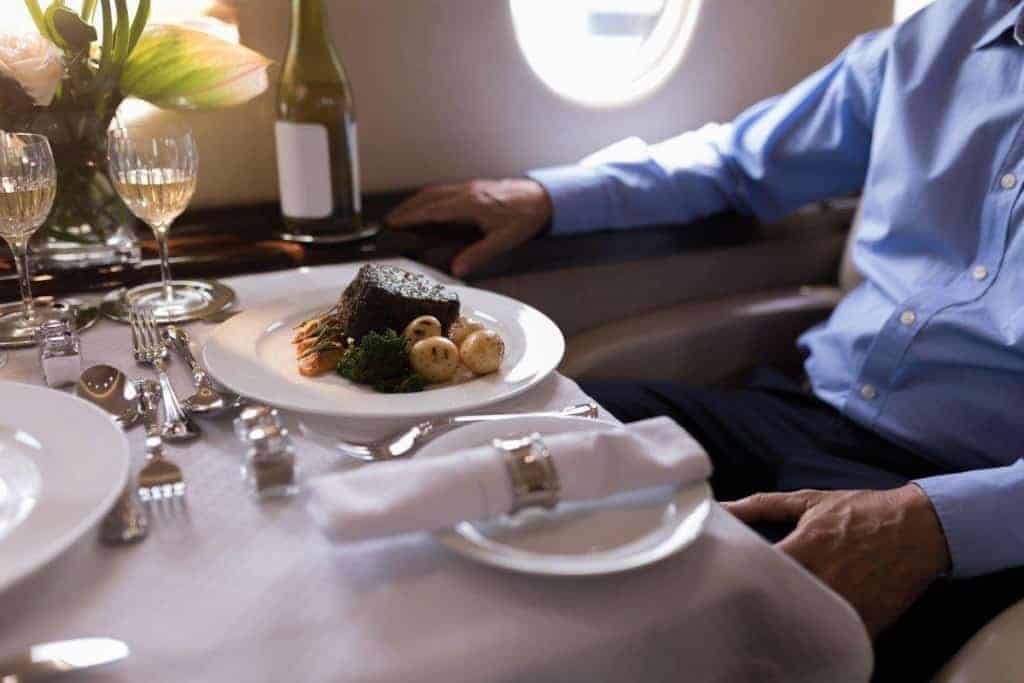 1. Catering and Food Orders
Is your airplane equipped with a galley with space for hot food, an oven, microwave, and drinks? Most Light Jets have storage for hot and cold beverages and finger foods and snacks. If you are traveling on a Mid-size jet and up, please request a flight attendant who can serve your meals. Note that VIP catering and alcohol are excluded from charter quotes.
2. Proper Attire
You can show up dressed in whatever you want, but please remember that the cabin does get a bit colder on long flights, so irrespective of the destination, please ask for a blanket or wear a light coat/jacket/sweater.
3. Use of Restrooms
It is always better to use the restroom while still on the ground, especially if you're flying in a light jet. The wash closets are small and not easy to use unless you're flying in a mid-size and up cabin size. No private jets carry showers and most light jets do not have running water to wash hands with.
4. Luggage and Carry-Ons
For the safety of your flight, the weight and balance is a necessary calculation for the crew. Always send the baggage dimensions with weights, including the weights of each passenger before the flight. Airplanes are all different, and some have their baggage compartment inaccessible during the flight. These external baggage compartments are also unpressurized, which causes some liquid items to leak during high-altitude flights. Confirm the location of your baggage with your charter analysts. Items needed by passengers while airborne, including medicines, should be carried inside the cabin. If your luggage has ski or golf equipment, ensure that the airplane can accommodate this large and heavy equipment.
There is no such thing as luxury travel involving a private jet unless the luxury is "time" saved. Be bold and request your next trip; be it a planned family vacation or a business trip with your executives. When you receive the quote from us, compare it to the hours saved and productivity gained. We are sure that you will love flying with Icarus Private Jet Charter.