What is the difference between charter flights and air charter services?
With increased global demand for air charter flights, passengers can find it overwhelming to decide which is the most suitable air charter service for their travel needs. There's an important distinction on whether a private aviation provider only offers charter flights or a comprehensive charter service. The latter, whether chartering a helicopter flight or a jet, includes a tailored travel plan for each customer, guidance to choose the most appropriate aircraft for the flight, and managing the needed documentation prior to departure, among other variables.
The complementary nature of jets and helicopters plays a key role in the private aviation ecosystem, allowing passengers to truly adapt each type of aircraft to their needs. In fact, it is common for private aviation clients to combine their travel with a jet and a helicopter, especially in leisure destinations like the Greek islands, which might demand a helicopter transfer in the final legs of the trip due to the remote nature and topography of the region.
How to Select the Right Helicopter Charter Service
Choosing a company with a proven track record is a key aspect of a safe and successful travel experience. While private helicopter and jet charter services are complementary, there are private aviation providers that do not have extensive experience in the helicopter realm, and consequently do not have access to the best models in the industry. Safety is the main pillar at Icarus Jet and the company only offers the most modern helicopters in the market, like the Robinson 44, Airbus H-135, or the Airbus H-120, among many others.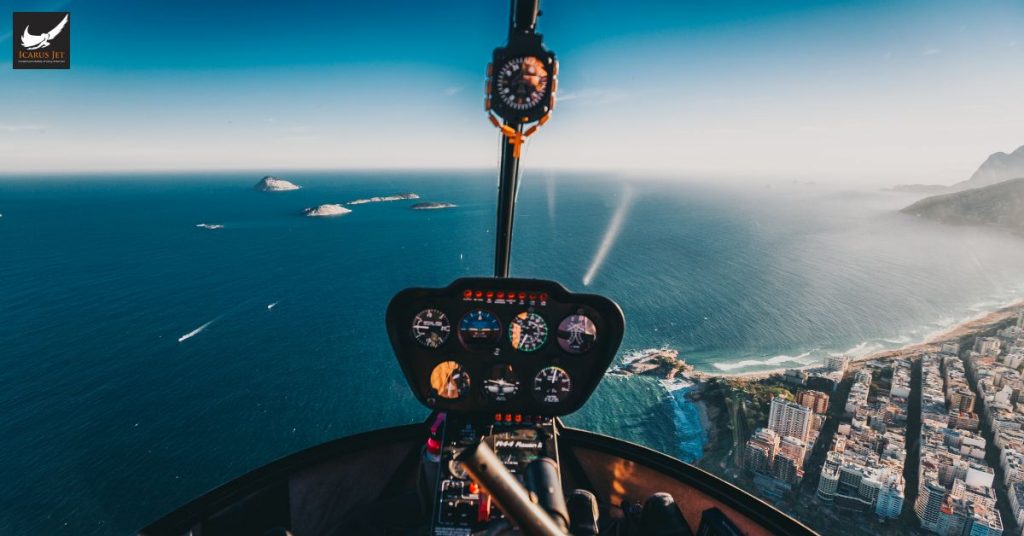 The company only sources aircraft with insurance and allows customers to choose the most efficient helicopters from a carbon emissions standpoint. Furthermore, this industry specifically has a diverse pool of options – helicopters come in different shapes and sizes, with some having the capacity to fly only a few passengers, which is the most common for leisure travel, while others can even fly up to 19 passengers in business or oil and gas related missions.
What are the most important things to consider when booking your next helicopter flight?
Helicopters and private jets both share comfort, privacy, and reliability as their main traits, yet the most important difference is their operational capability. While jets have thousands of miles of non-stop range, helicopters have an efficient flight radius of between 250 and 400 miles, or roughly 3 hours before they must stop for refueling. While that range is more than enough for leisure flights, passengers should always know about the capabilities of the aircraft they're chartering.
Prices will vary depending on the route and type of helicopter chartered. Our helicopter price calculator will allow you to compare the best options and find the helicopters that best suit your travel needs. Similarly to the private jet price calculator, the helicopter version allows customers to choose the destination and departure time, and date for their next helicopter charter, whether flying for business or leisure in any region of the globe.
What are some things you should always know about helicopters?
It is important to understand that helicopters have limitations that need to be accounted for. Probably the main one is that they are only able to operate between sunrise and sunset for safety reasons. They also have luggage weight limitations when compared to private jets, therefore every helicopter charter provider will diligently request their passengers to inform them of the dimensions and weight of the baggage in alignment with the operational capabilities of each aircraft.
There is a wide array of helicopters in the market, with the main manufacturers being Airbus Helicopters, Leonardo, MD, Sikorsky, Robinson, and Bell – each company is specialized in a different segment, whether VIP, military, police or even air ambulance. Icarus Jet will help each customer navigate through the best helicopter options for their travel plans while also sourcing any private jets you may need to complete your itinerary. Our private jet flight comparison chart is a good resource to compare the specifications of each type of aircraft and how it might adapt to your next flight and budget.
Conclusion: Start Hiring a Helicopter Charter Service Today
Helicopters are a key component of the private aviation experience as they allow passengers to connect with remote locations for leisure or business purposes. Helicopters serve as the perfect option for customers looking to fly to islands in the Mediterranean Sea after landing their private jet in a nearby private jet terminal. This is the case with the Greek and Turkish islands, southern Italy, and even the French Riviera.
Helicopters come in different shapes, sizes, and prices, and relying on an experienced and trustworthy private charter company like Icarus Jet is crucial for safe and seamless travel – the company has established relationships with the best-certified operators around the globe and can source the best helicopter options for your next private flight.
Icarus Jet charter can arrange a pickup for your travel group at any airport in the world and coordinate a charter flight to the closest helipad to your destination. Enjoying a safe and comfortable helicopter flight is just a click away.
Experience the Ultimate in Comfort and Convenience – Hire a Helicopter Charter Service from Icarus Jet Today!