Private Jet Charter Service New York
Reliable & Safest Private Jet Charter Company
Use our instant Quote calculator to Estimate Private Jet Charter Prices
Popular Destinations from New York that Icarus Jet offers Private Jet Charter Services to
| | |
| --- | --- |
| City | To/From |
| New York | Washington |
| New York | Pittsburgh |
| New York | Chicago |
| New York | Los Angeles |
| New York | Dallas |
Icarus Jet offers private jet charter services from New York so you can fly in luxury and style! Our services make it easy, convenient, and flexible for you to travel wherever you need to go.
Experience the Convenience of Private Jet Travel
Take the hassle out of business trips and get yourself to your destination in record time. With Icarus Jet's private jet charter services, you can avoid long lines and delays at the airport, while still enjoying luxurious amenities like gourmet food & drinks.
Travel with Flexibility and Comfort
Choose from a variety of aircraft that suit your needs best — from light jets to large VIP aircraft. Enjoy a customized experience catered to your preferences with our private jet charter services from New York.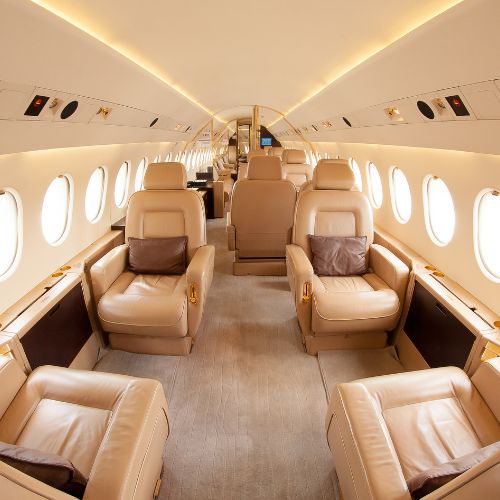 Expertise You Can Count On
When it comes to private jet travel, no one does it better than Icarus Jet. Our seasoned team of pilots and cabin crew have been providing premium service for over years, ensuring your journey is a relaxing and enjoyable one.
Personalized Service
At Icarus Jet, we understand that no two trips are the same. That's why our team offers a highly personalized service to ensure you always get the perfect flight for your needs. Whether it's a romantic getaway or a business trip, our attentive staff will make sure everything is taken care of from start to finish.
Competitive Pricing
We strive to offer competitive pricing for all our private jet charter services, so you don't have to worry about hidden fees or overspending on your trip. Plus, with transparent billing, you can rest assured that you're getting great value for money every time you fly with us.
The right aircraft for every need
Whether you're planning a business trip, a family vacation, or simply want to explore the world, you can find the perfect aircraft for your needs in our fleet. Our aircraft have different capacities, ranges, and features to suit your requirements.
Experience excellence in aviation
Icarus Jet is proud to offer an outstanding selection of aircraft that meet the highest standards of safety and reliability. With our team of experienced pilots and dedicated staff, you can be sure that you will be in safe hands with us.
Luxury at your fingertips
Experience unparalleled luxury on board our private jets. Enjoy comfortable seating arrangements, watch movies on-demand or stay connected with wifi access – all while enjoying the highest quality of service.
Overview of the Different types of Aircraft available for Charter from New York
Get an Instant Quote
Request a quote in just a few clicks and get an estimated cost for your preferred aircraft and itinerary.
Choose Your Aircraft & Itinerary
Browse our selection of aircraft and customize your journey to fit your needs, from one-way or round trips to multi-leg journeys.
Secure Your Booking & Payment
Confirm your booking with our secure online payment system, making it easier than ever to fly in comfort and style.
Available Aircraft
Turboprop
Very light Jet
light Jet
Mid Size Jet
Super Midsize Jet
heavy Jet
Ultra long range Jet
Icarus Jet Team
Our dedicated Aircraft support team is available to serve you 24 hours a day, 7 days a week, 365 days a year.
INTEGRITY, INNOVATION & DIVERSITY 
An industry leader in research and development of private jet travel.
Safety First
We never compromise when it comes to the safety of our clients. All of our vendors and aircraft operators have to pass through a rigorous background check and a safety audit by either Wyvern or Argus. Both of the audits have set a benchmark for the aviation industry where every aspect is taken into consideration.
Reward Program
It's easy to join and very easy to earn — Just buy Trip Support and the Jet Fuel on the same trip and get funded 25 USD per crew on that trip. Once you're funded, the rewards points don't expire and can be redeemed anytime using a reloadable American Express® card, so you can get whatever you want wherever American Express is accepted around the globe.
Meet the Crew
We have formed a family at Icarus who are the best and brightest of the Aviation industry. We speak multiple languages and we cover multiple continents. We are Maintenance engineers to Pilots to highly skilled Legal Aids and Flight Dispatchers. With a passionate heart for all things Aviation, we are here to serve your every need.
Why Icarus
Icarus Jet is a private jet charter firm based in Dallas, TX, London, U.K, Dubai, UAE, and Nairobi, Kenya with the capabilities to handle all of your luxury private jet charter needs. We have the highest safety rating when it comes to private aircraft charter and private jet management. Our tagline We will take you everywhere is not just a reference to travel, it's our way of thinking.
What Is an IFR Route? Instrument Flight Rules (IFR) routes represent carefully planned aerial paths that are the linchpin of safe and regulated aviation operations. Operating under the vigilant gaze of instrument flight rules becomes imperative, particularly when...
read more
Empowering Humans and leaving a trail of genius
Passenger safety and privacy are top priorities at Icarus Jet. Please call our analysts to book your private jet charter today.
CALL NOW