Exploring the Beauty of Mykonos from Above
One of the most popular destinations in the Aegean Sea, Mykonos attracts thousands of tourists yearly to experience its cosmopolitan atmosphere and vibrant nightlife. Also known as the Ibiza of Greece, the island has breathtaking views with unique sunsets coupled with its traditional white and blue-domed architecture. Renting a helicopter in Mykonos is the perfect way to explore with detail the most popular island in Greece.
A helicopter tour in Mykonos is also a great option to explore the beauty of the island, which also has archaeological sites in its vicinities, amazing beaches, and a vivid capital in Chora. Mykonos helicopter sightseeing is enabled by a wide array of certified and experienced operators and helicopter charter options on the island, making the possibility to rent a helicopter in Greece the perfect plan for your next leisure travel to the country.
What Are The Different Types of Helicopters Available For Hire in Mykonos?
Private helicopters for rent in Mykonos abound, yet it is important to always charter with a trustworthy travel partner. From small single-engine helicopters to larger twin-engine aircraft, passengers can choose whichever helicopter adapts to their travel group and needs. Popular models like the Robinson R66 for four passengers allow the flexibility to land as close as possible to your hotel, villa, or next to your favorite beach on the island.
Another larger luxury helicopter for hire is the Airbus H-135 for six passengers, which also serves as the perfect option to connect Athens with Mykonos Airport, with a flight that lasts under an hour. The flexibility that the helicopter provides in Mykonos is the main reason for its popularity because it can connect in just minutes with airports, and helipads close to yachts and beaches, while also allowing astonishing views of the Cyclades Islands.
How Much Does it Cost to Rent a Helicopter in Mykonos?
Before understanding the cost of hiring a helicopter in Mykonos, it is important to know that helicopters are only allowed to fly from dawn to dusk, with complete restrictions during nighttime. Weight limitations also apply to the luggage and passengers; therefore, it is key that passengers are listed correctly during the booking process. The private charter company will advise which is the best helicopter model to operate your flight.
The price of renting a helicopter in Mykonos will vary depending on the route and type of helicopter, and also if it's a single-engine or twin-engine model, with the latter being more expensive. Private charter companies like Icarus Jet play a crucial role in pairing the right helicopter with its passengers, only souring the best-certified options in the region and making sure they adapt to the final budget of each customer. Our charter cost comparison tool will allow passengers to obtain all the available charter options for their next trip to beautiful Mykonos.
Where to Go and What to See with a Helicopter Rental in Mykonos
With so many options in Mykonos, it is wise to plan your stay accordingly. The best places to see in Mykonos from above are Paradise Beach, Little Venice, and taking a glimpse from the sky of its unique windmills. A Greek islands tour by air is also a no-brainer, with a day trip plan to the island of Delos very much within the possibilities to enjoy a once-in-a-lifetime experience while also exploring one of Greece's most treasured archaeological locations, declared a UNESCO World Heritage Site.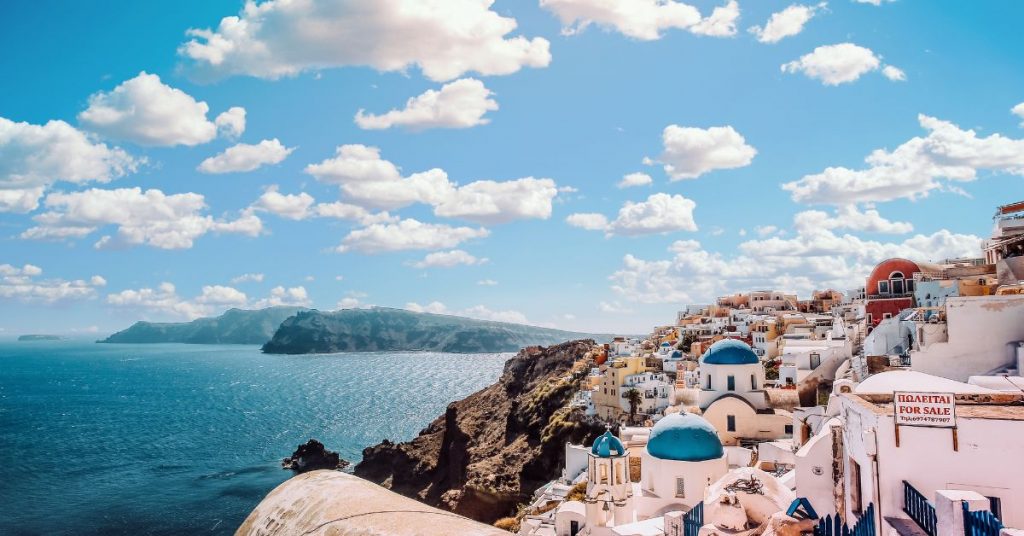 Air tours in Greece are popular because of the flexibility they provide passengers to sightsee many breathtaking views in a short period of time. In the case of Mykonos, its proximity with Tinos, Syros, Paros, and Naxos, all part of the Cyclades, in the Aegean Sea, makes for a great helicopter tour in Greece. All are accessible from Athens and enable passengers to request tailored drop-offs on the most pristine beaches in the region.
What are the Advantages of Renting A Helicopter in Mykonos?
There's a large pool of benefits to renting a helicopter in Mykonos. For starters, the possibility to land just feet away from your villa, hotel, or favorite beach is second to none, while also having the ability to plan arguably the best sightseeing flights in the world, with breathtaking sunsets on the Aegean Sea horizon. Other advantages of hiring helicopters are the price of the rental, much lower than chartering a jet from Athens, for instance, while no slots are needed at the airport as when arriving in Mykonos on a chartered jet.
If you're still wondering why you should rent a helicopter to Mykonos, our team of qualified professionals with on-site knowledge can walk you through the process of chartering an aircraft on the Greek islands or in any destination in the world. Helicopters provide a safe, cost-efficient, and flexible option to discover the wonders of beautiful locations from the sky.