Charter plane flights offer unparalleled perks, making them the ultimate choice for business travelers and luxury leisure seekers. Air travel has grown beyond commercial airline trips into a personalized path to the clouds. With charter flights, have your flight your way. Travelers can maximize their efficiency and fly conveniently to any place of choice. They take advantage of flexible timings and enjoy a tailored experience throughout their journey – from cuisine to entertainment. Can't believe it? Let's run through your typical workday.
It's a Monday morning, and you have a business meeting set across the country. Your alarm clock shrieks at the ungodly hour of 4:30 a.m. and ruins your peaceful sleep. That's your cue for beginning a long day of commercial air travel. Reluctantly, you drag yourself from the warmth of your bed, fully aware of the inevitable hours you'll spend in airport chaos, security queues, and gate waits.
But now, let us catapult ourselves into an alternate reality where the choice of charter flight transforms the very fabric of your day. You arise at a more agreeable 6:30 a.m., feeling fresh and rested. You enjoy a relaxed morning meal in the comfort of your own home, secure in the knowledge that your charter jet flight is ready for departure at a private terminal. At the terminal, there are no queues or security checks. The charter crew greets you by name and helps you with your luggage. You step onto the jet, and within minutes, you're comfortably seated in an opulent and spacious cabin. Gone are the agonizing delays of overbooked flights and the crushing horde of weary travelers. Once you've settled in, the aircraft lifts off punctually, embarking on your journey across the country. Throughout the flight, you can savor personalized meals crafted to your tastes. Make progress on your work or unwind in peace, up to you!
On the other hand, what's going on with your commercial airline counterpart? While they were navigating the bustling airport, enduring layovers, and dealing with cruel delays, you've already landed, refreshed, and ready to seize the day! Your meeting is guaranteed to go better.
1. Private Jet Flight Times Have Swifter Durations
Exploring the benefits of charter flying, we can begin with the most beneficial perk of saving time. On a trip, multiple avenues consume time. They include indirect routing, layovers, airport arrivals, boarding delays, etc. Passengers flying on charters enjoy easier airport arrivals and departures; they can show up just 15 minutes to an hour before takeoff, resulting in time savings of up to 3 hours per trip. Then, charter passengers often benefit from expedited security and boarding processes, thanks to fewer travelers and reduced congestion, potentially saving 45 minutes on each flight. Additionally, charter jet flights don't do layovers or connecting flights, saving travelers a substantial 5 hours or more in total travel time.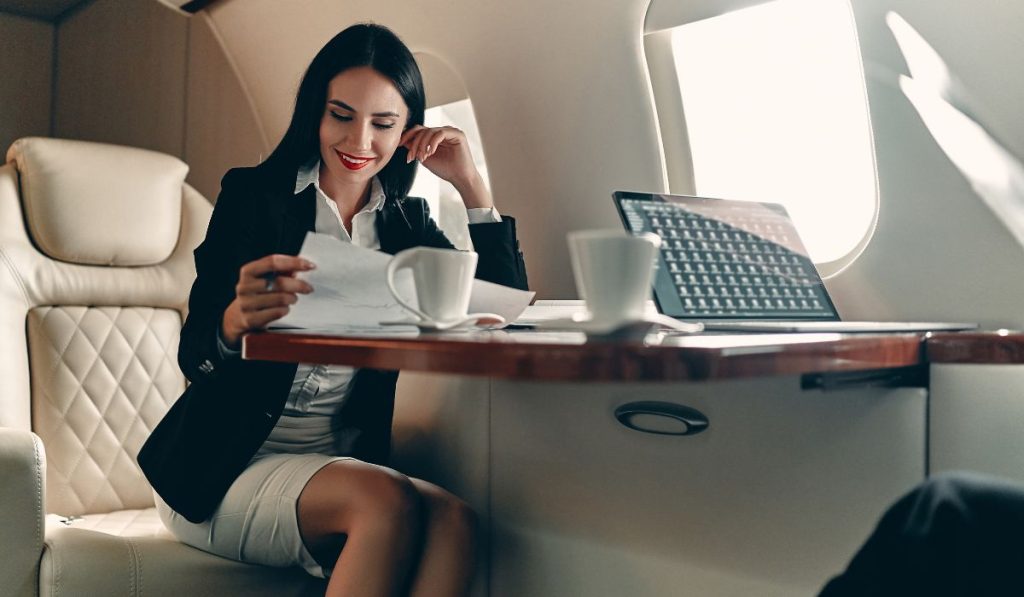 The flexibility of scheduling in charter jet flights improves time management, allowing passengers to depart and arrive at times that suit their preferences. They follow direct flight paths, reducing the time spent in the clouds; on average, charter flights can be as much as a quarter more rapid than commercial airlines covering the same routes. Private jet flight times are considerably lower.
2. Charter Jet Flights Offer Budget-Friendly Itineraries
The perks of flying on a personal schedule private jet come with planning an itinerary you want. It can have multiple stops, you can reach remote locations (without international airports nearby), and you can bring your group of friends along for the ride! When it comes to group travel, like family getaways or corporate retreats, opting for a multi-stop charter flight proves to be a practical and budget-friendly choice. It enables passengers to stay together throughout the trip, simplifying the coordination between the members of the group.
Imagine you and your group of friends have been planning a great adventure—a cross-country exploration of America's stunning national parks and cities. As you start mapping out your journey, you consider the traditional option of booking commercial flights. But, you don't want to spend more time in transit than cruising through your dream trip. When you order a chartered jet flight, your Day 1 begins as planned. The plane lands in Las Vegas, where your group visits the city and the Grand Canyon. After two days, you head to San Fransisco's colorful neighborhoods and explore the Golden Gate Bridge with your friends. Later, you fly to Dallas. It's nearly Day 8 when Napa Valley beckons and your private jet takes you there in style. You enjoy wine tastings and vineyard tours, knowing you're not wasting a single minute on transfers. Your group travel continues to Yosemite National Park, where the private jet lands at a nearby airport, saving you hours of ground travel.
Then, onto the last stop in New York City in your private aircraft, and viola – an affordable trip spent with your friends within the little time you had off from work!
3. High Private Jet Safety & Privacy Standards
Commercial airlines are hijackable and not easily maneuverable during emergencies. On the other hand, charter jet flights deal with a small number of passengers, reducing the chances of such problems. Additionally, they maintain the privacy of individuals and guarantee a stress-free ride. Most first-time travelers are concerned about private jet safety due to a lack of public information about the nature of charter jet flights. People perceive smaller aircraft to be more susceptible to mechanical issues or weather conditions. However, there is no basis for this claim. The misconceptions about safety regulations in the charter industry are refutable through hard-core statistics. Approximately 98% of private jet operators meet FAA safety standards, so mishaps due to mechanical errors account for less than 5% of failed flights.
In retrospect, would you expect trending celebs and corporate leaders to choose an unsafe medium for their travel? Not! That would be absurd. There's a reason why the Kardashians and Clintons fly on private jets: because they trust in the safety & privacy offered by chartered flights.
Icarus Jet offers a wide range of chartered jet flights globally. We promise excellence in safety, privacy, and service for all destinations and retreats. Now, are you excited about some time-saving wizardry on your next flight? Request a private jet quote today and schedule your next business meeting now.