History of London Biggin Hill Airport
London Biggin Hill Airport is a historical airport that served a significant roll in both the 1st Wolrd Was and the 2nd World War. The airport was used by the fighters that collectively downed 1400 Luftwaffe fighters. London Biggin Hill Airport is now only used for the Private aircraft traffic and flight school. It also has a significant repair and overhaul center for Bombardier Manufactured private jets. London Biggin Hill Airport has numerous hangars and cost-effective parking for General aviation aircraft. The Major drawback of Biggin Hill Airport is that although it is located in South Central London, no major motorway connects the airport to the city. Hence it takes close to one hour and 30 minutes through many traffic lights and smaller streets. The other drawback is that the airport is not open 24 hours a day and it closes earlier on weekends and bank holidays.
London Biggin Hill Airport Terminals
London Biggin Hill Airport serves only private aircraft and has two FBOs serving the passengers. Biggin Hill Airport and Signature flight support are the two FBO facilities that provide Jet fuel, Parking, and Hangar services. Bombardier Maintenance center offers all the Maintenance services for Bombardier aircraft.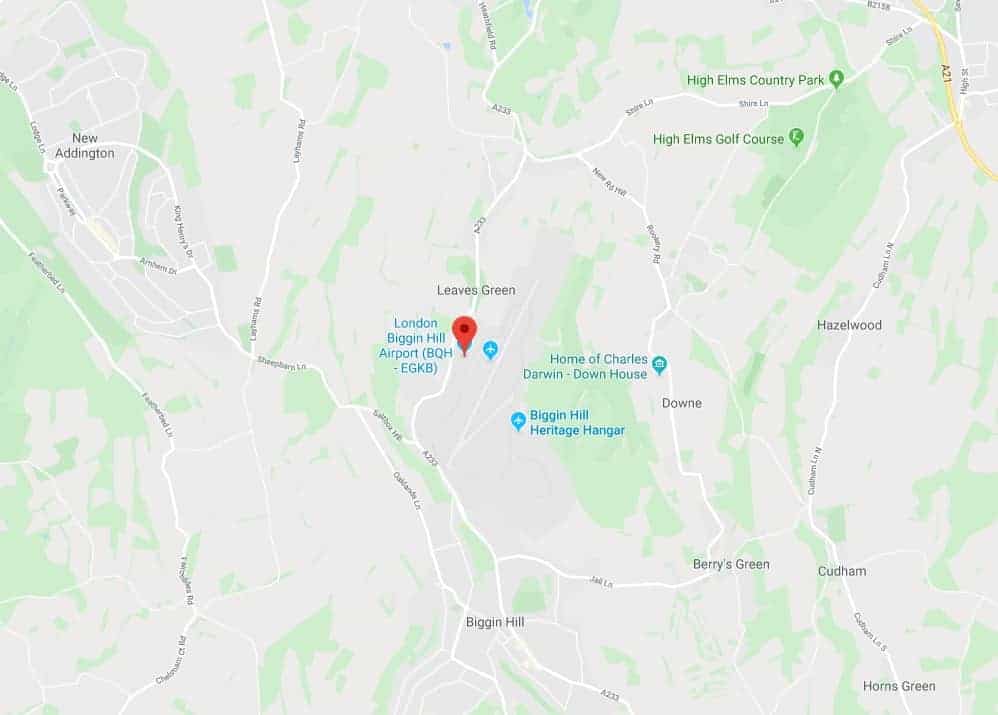 Information and restrictions London Biggin Hill Airport
ICAO – EGKB, IATA – BQH

Lat/Long

N51-19.9/E000-02.0

Longest Hard Surface Runway (ft)

5971 x 148, 03/21

Elevation (ft)

599

Runway Surface

Asphalt

Fuel Available

PCN

INTERNATIONAL

Current UTC

2:30:36 AM (0.00)

Local Standard Time

3:30:36 AM
For private jet charter to or from London, Biggin Hill Airport call Icarus Jet on +1-888-277-7203 (24 Hours) or contact us Online.