There are many beautiful Islands and archipelagos in the World, but there is only one group of island chains that have uniquely white-washed houses and golden sandy beaches. The Cyclades islands are for nature lovers as much as they're for the party animals. With colder sea waters and the salty Ionian Sea, the Aegean Islands is not off the beaten track but a yearly pilgrimage for the world's celebrities and Uber rich. What brings people to the Ancient Greek islands of Paros, Santorini, Samos, and Ios, covered in Olive groves and wineries? The mystic starts with Mykonos town, where the private jets are struggling to get a landing slot to drop off their passengers. Welcome to the private jets and helicopter season in the Aegean Sea. Please see our top ten reasons to charter a helicopter in Greece.
Traveling by Helicopter in The Greek Islands
1. VIP Transportation
If you want to land at Thermes hotel or Scorpios In Mykonos, there is no other way of doing it but to arrive in style in a helicopter. These luxury helicopters are both single-engine and twin-engine, and they have an impeccable safety record. Landing in a helicopter at Nammos beach is one of a kind VIP experience.
2. Privacy
One of the most important aspects of travel in private aviation is Privacy. We do not share the itinerary or any travel document with any third party or vendor unless it is required by law. Rest assured your departure and arrival information is never volunteered but to the regulatory authorities only.
3. Safety
With the highest regard to safety, we approach all flights with helicopter operators who have had highly trained pilots and engineers who maintain the aircraft to the highest standards. We always make sure that the Captain is familiar with the topography of the Ionian Islands and understands the weather factors for all their safety decision-makings.
4. Fastest Transportation
There is no faster way to get from Athens to Mykonos in the Greek Islands than a helicopter. The main reason for a faster transfer via a helicopter charter in Greece is that the helicopters do not require a slot for take-off or landing in the Cyclades airports, whereas the private jet charters require a slot for both the take-offs and landings, which in the summer season is almost impossible to acquire for the exact times desired by the passengers.
5. Cost-effective
A helicopter transfer in the Greek islands is the most cost-effective way to get around. The cost for an R 44 Helicopter Charter from Athens to Mykonos for two passengers with small carryons is around 3400 USD, all Inclusive for a 55-minute one-way flight.
6. Sightseeing
With so many beautiful islands in Greece, it is sometimes impossible to grasp astounding beaches, food, and the culture of this ancient land. We can curate a sightseeing tour on a helicopter that will fulfill your desire to have seen the monuments in Athens and enjoy a couple of different Islands and their beaches.
7. Yacht Transfer
Yachts to Mega Yachts to Giga Yachts, no matter where your yacht is parked in the Islands (Mykonos, Santorini, Paros, Anti Paros or Eschoinusa), we can fly you to a helipad closest to the yacht and get you there safely and efficiently.
8. Day Trips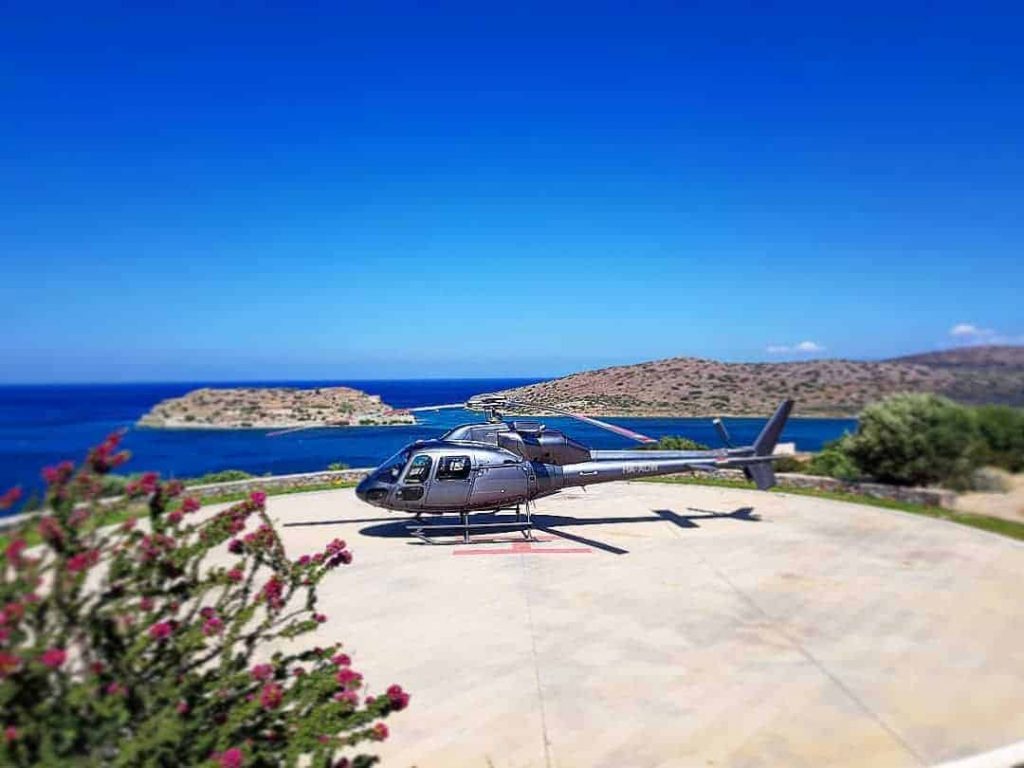 Day trips on a vacation week are sometimes necessary. Often, our clients have a meeting in Athens, or they need to connect for a day trip on an airline or their own private aircraft. Icarus Jet Charter can arrange all your day trips in curated helicopters from Athens, Mykonos, Santorini, Ios, Paros, and Samos.
9. Land next to your Hotel or Villa
The airports in the Cyclades are small and have relatively fewer taxis and transportations available from the airport to the hotels or villas. This makes for a huge waste of time waiting and fighting the traffic while on your vacation. Most of our curated helicopters can land directly at the villas or the hotels and cut your commute time.
10. Save on Time
Time is of the essence, especially while you are on vacation. We can save you hours in a day on the commute and guarantee hassle-free travel between the islands. You can spend more time on the beach and your yacht than waiting in line for a taxi or your airline connections.