Dallas is a paradise for private jet travelers and crews thanks to the unique infrastructure that serves the business aviation industry. The previous has led the city to achieve its status as one of the most important private aviation hubs in the world, while also having unique traits to drive demand – the city is home to numerous Fortune 500 companies, headquarters of major industries, and a strong entrepreneurial ecosystem, while also being a major center for entertainment and sports events, attracting celebrities, athletes, and touring companies.
Private aviation offers unparalleled customization levels, flexibility, and overall comfort, and passengers that land in Dallas usually use two specific terminals. Firstly, Dallas Love Field, the private jet terminal by definition of central U.S., and located just 6 miles northwest of downtown Dallas. It has dedicated facilities for private aviation, including FBOs (Fixed Base Operators) that offer services such as aircraft handling, fueling, and passenger amenities.
The second option is Dallas/Fort Worth International Airport, which offers dedicated private jet facilities for travelers, yet due to its high aircraft traffic, is commonly not the recommended option by private jet providers.
Understanding Dallas from Above
When flying over Dallas before arrival, there are several major landmarks and notable sights that passengers can see from the air, which serve as a preview of the options that can be explored on the ground. For starters, it's impossible to miss the iconic Reunion Tower; recognizable by its distinctive spherical shape, its observation deck offers panoramic views of the city, and its colorful lighting display makes it easily visible from the air.
America's team stadium, also known as the Dallas Cowboy's home field – AT&T Stadium located in nearby Arlington, is a massive sports and entertainment venue with its retractable roof and distinctive architecture, which is also easily recognizable from the air. On the same line, the home of the local NBA team, the Dallas Mavericks, and the NHL squad, the Dallas Stars, is also visible from the sky. The American Airlines Center has a large domed roof and its location in the Victory Park neighborhood makes it a notable sight when flying over Dallas.
Margaret Hunt Hill Bridge is an architectural landmark in Dallas and its distinctive white arches and modern design make it a striking sight from the air, especially when lit up at night. The same with the city's skyline, where notable skyscrapers like Bank of America Plaza, Renaissance Tower, and the iconic Bank of America Building can be seen when descending to land on a private jet.
Private Jet Services in Dallas
The private jet industry in Dallas continues to thrive thanks to the city's strong business environment, transportation infrastructure, and demand for efficient and flexible air travel options. This has led to the existence of a wide array of service providers in the city, from operators, brokers, and FBOs, to maintenance facilities – Dallas offers private jet travelers everything they need before and after a flight.
Private charter companies in Dallas like Icarus Jet provide access to a diverse fleet of aircraft, allowing travelers to choose the most suitable jet for their specific requirements. Yet for those passengers arriving in the city on a private jet, the selection of the FBO is a key component of the experience. In Dallas Love Field, Signature Flight Support and Atlantic Aviation, two of the largest FBO networks in the country, provide a full range of services, including aircraft handling, fueling, concierge services, crew facilities, and passenger lounges. While Jet Aviation and Landmark Aviation provide the same type of services at Dallas/Fort Worth International Airport.
The prices to charter a light private jet for the top routes to Dallas are:
Teterboro – Dallas: $32,500
Las Vegas – Dallas: $23,500
Houston – Dallas: 10,400
Palm Beach – Dallas: $20,850
Miami – Dallas: $19,000
Austin – Dallas: $12,000
Hidden Gems of Dallas: Destinations Accessible by Private Jet
Once in Dallas, there are many things travelers can do, whether flying into the city for business or leisure. Once the jet has arrived at one of the top terminals in the city, the private charter company can arrange ground transportation to hidden gems that are not usually on the radar of tourists visiting the region. Even in that regard private aviation can offer a highly customizable travel experience.
The Bishop Arts District is a vibrant area known for its eclectic mix of boutiques, art galleries, and restaurants – the perfect place to discover on a weekend private jet flight to Dallas. Deep Ellum is another hidden gem; a historic neighborhood just east of downtown Dallas that is renowned for its lively arts and music scene. It's a haven for live music lovers, with numerous music venues showcasing a variety of genres.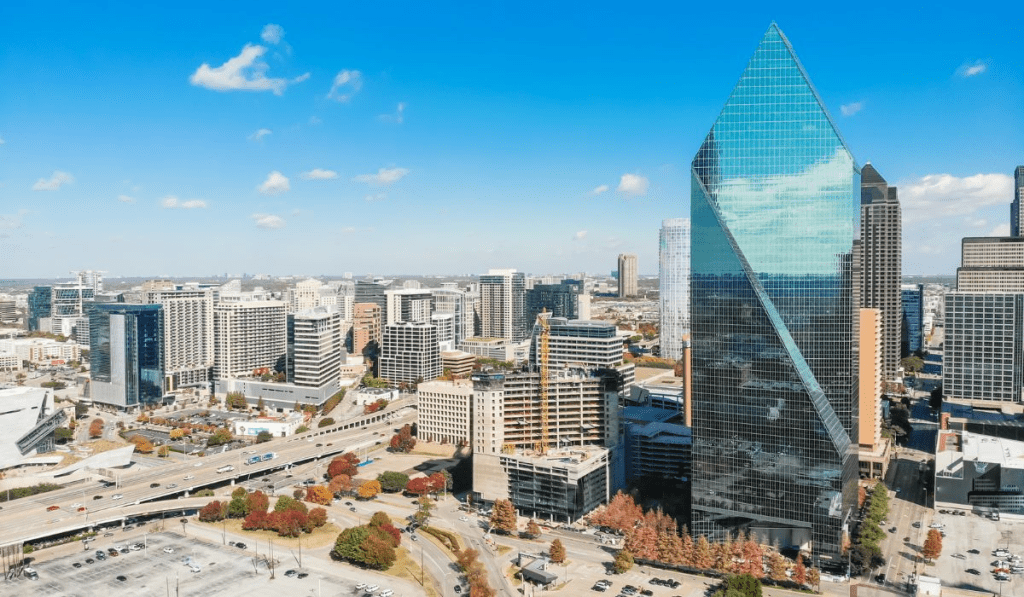 Do you like wine and fancy a day's travel to a charming town just 30 minutes away from Dallas? Then Grapevine is the place. Grapevine is a fascinating town with a rich history and a small-town atmosphere where travelers can explore its historic Main Street, visit wineries for wine tastings, and take a walk along the shores of Lake Grapevine. Similarly, located just north of Dallas, McKinney is a picturesque city with a well-preserved historic downtown. Quaint shops, restaurants, and art galleries await visitors along its charming streets. McKinney also offers beautiful parks and outdoor spaces, making it a great destination for outdoor and nature enthusiasts.
Luxury Accommodations, fine dining, and cultural experiences in Dallas
While there are plenty of luxury accommodations that cater to travelers seeking comfort, style, and exceptional service in Dallas, like The Ritz-Carlton and the Four Seasons Resort, few combine an intimate dining experience, stunning views, and top-notch hospitality.
The Turtle Creek neighborhood is the place where travelers can find this type of experience, boasting two unique places in The Mansion, offering an elegant and intimate setting where guests can experience innovative and seasonal American cuisine, and the Rosewood Mansion, with a restaurant that showcases an exquisite menu that combines European influences with locally sourced ingredients, providing a truly elevated dining experience.
At Icarus Jet, we also recommend another place that sublimely mixes hospitality and fine dining. The Joule, a boutique hotel in downtown Dallas boasts several exceptional dining options, offering a modern take on American cuisine, also with a focus on locally sourced ingredients. Additionally, guests can enjoy Asian-inspired cuisine at Mirador, an elegant rooftop restaurant with stunning city views.
In terms of unique cultural experiences, Dallas also has plenty to offer. The Dallas Museum of Art is renowned for its extensive collection of art from various cultures and periods, featuring works by renowned artists like Van Gogh, Monet, Picasso, and Warhol. Located in the Arts District, the Nasher Sculpture Center is a world-class museum dedicated to the exhibition and study of modern and contemporary sculpture, and the center's collection includes works by prominent artists such as Rodin, Calder, and Matisse. The Dallas Opera and the Dallas Theater Center are also must-stops for art and culture enthusiasts.
Tips and Tricks for the Ultimate Private Jet Experience in Dallas
Dallas has limitless options to offer business and leisure travelers visiting the city. And private aviation allows each passenger to fully customize the experience, from itineraries, catering to concierge services. For instance, our private charter team at Icarus Jet can tailor a cuisine-based experience for your next stop at Dallas or, on the other hand, plan a cultural trip throughout the top places in the city and region. With private aviation's flexibility, there are literally no limits.
In terms of how to maximize the private jet experience, at Icarus Jet we believe that open and transparent communication with customers is key to setting the appropriate expectations for the travel group. This will allow for choosing the right aircraft, sourcing the perfect catering and inflight amenities, as well as working with the top certified national and international aircraft operators. Furthermore, Icarus Jet is based in Dallas and has extensive knowledge of what the aviation authorities will request for every travel party, as well as established relationships with authorities and vendors.
Conclusion
As exposed in this piece, Dallas is a thriving city that serves as both a business and leisure hub, offering a wide range of opportunities for professionals and travelers alike. Its blend of business opportunities, cultural attractions, entertainment options, and recreational spaces make it a compelling destination for a well-rounded and fulfilling experience. Private aviation is the perfect partner for those seeking to experience the city with complete ease, safety, and comfort, thanks to its tailormade approach coupled with the unparalleled knowledge of the Icarus Jet private charter team.
Based in Dallas, we are in the perfect position to meet all the needs of diverse travel groups, whether traveling for business or leisure. Most importantly, having a dedicated team in Dallas allows us to provide better options in terms of aircraft availability and prices thanks to our long-standing relationships with aircraft operators and travel vendors across multiple industries.
Contact us today to charter your next flight into Dallas from any location in the country or international destination to experience a truly seamless private jet flight, completely tailored to your requirements.