What to consider when planning a private flight to Mexico
Many considerations must be considered when planning an international private jet operation. Mexico is no exception, and planning for a wide array of potential logistical issues, and restrictions should be standard practice for any crew trying to obtain landing permits in the country. Trip assistance to Mexico will consider arranging ground handling, hotels, ground transportation, and fuel stops depending on the route and airport used to enter the country.
Mitigating potential security issues is also part of the planning process of any Mexico-focused trip support service, with detailed briefings depending on the airport to help crews understand the local situation. Removing uniforms and company ID before departing the airport is a good practice to avoid any potential issues while also keeping a low profile and arranging an established ground transportation service from the terminal to downtown. Small precautions like these can go a long way toward a trouble-free operation.
Which are the main airports to land a private jet in Mexico?
Mexico is considered one of the top 5 business aviation markets in the world in terms of the number of aircraft, third in America, just behind the U.S. and Brazil. This means good private jet infrastructure and services are usually available throughout the country. A popular destination in Mexico is beautiful Cabo San Lucas which offers two options for landing a private jet, an international terminal, and a dedicated private jet airport. Some of the main airports in Mexico are listed below.
1-Mexico City International Airport
2- Santiago de Queretaro (San Miguel de Allende)
3-Acapulco International Airport
3- San Jose Del Cabo
4- Cabo del San Jose
5- Cancun International airport (this is the closest international airport to Tulum)
6-Tijuana International airport
While Los Cabos International Airport is the popular option for a commercial flight arriving from the U.S. and Canada, it is also a top destination for general aviation flights serving the San Jose del Cabo, Cabo San Lucas, and the greater Los Cabos area. On the other hand, Cabo San Lucas International Private Jet Airport is the go-to option thanks to its proximity to the town and because it's the only international private jet airport in the country, which grants the crew and passengers a hassle-free entrance to Mexico. It is important to consider that the airport is open weekly from 6 AM to 8 PM.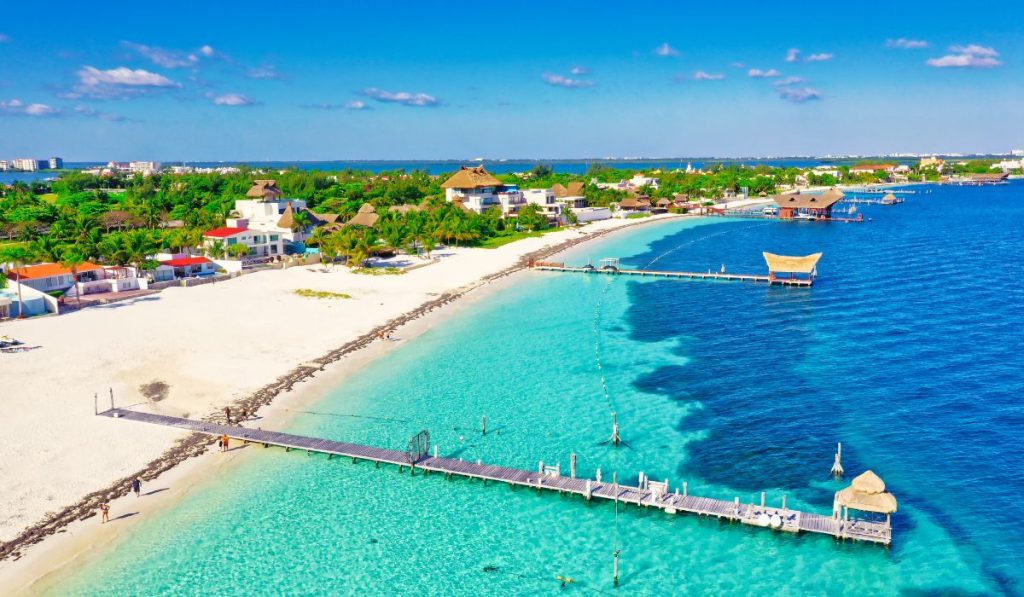 What are the operating requirements and documents for Part 91 in Mexico?
Obtaining the proper Mexico travel advice from an established trip support company like Icarus Jet will allow a smooth operation in Mexico. Aircraft documents such as certificates of airworthiness, registration, and insurance, are a must for every flight entering the country. With regards to the insurance certificate, it can be worldwide or Mexico-specific insurance. For the worldwide option, it must be indicated that Mexico is included, and for Mexican insurance, it should state "Uso Privado", which means private use.
Regarding passports, crews must have a valid passport for travel to Mexico with enough remaining validity to cover the entire length of stay. Passengers must present passports and, when applicable, visas, along with customs and immigration cards, which can be pre-filled by the trip support company to expedite the whole process. Not complying with the proper passport information may result in deportation.
What are the types of landing permits in Mexico?
Single-entry landing and multiple-entry landing valid for the entire year are the two permits to enter the country. The trip support company will provide actionable advice on how and when to obtain them, usually at least 72 hours before departure. If an urgent flight is needed, obtaining an urgent landing permit 5 hours in advance is only feasible once having all the information and documents for operation and landing.
Furthermore, there's a long list of supporting documentation to obtain landing permits, like the latest aircraft registration, a list with all crew and passengers' names that will fly on board, a private letter that explains the date, aircraft type, registration number, and the primary passenger for the flight, a complete general declaration, fuel release or the way of payment, radio station authorization and letter of authorization RVSM.
Other important considerations when operating a private flight to Mexico
What is SENAM? Am I getting ramp checked in Mexico and what are the documents required to satisfy the civil aviation inspector during a ramp check in Mexico?
Additional fees on fuel and ramp checks apply in Mexico. Called SENEAM, operators who land in Mexico pay these fees as part of their fuel uplift charges. These fees are self-calculated, and crews should allow their trip support company to help determine what is the best way to keep track of them and report them to the local aviation authority. Outstanding SENEAM fees might result in denied permission to enter Mexican airspace in the future.
Crews should also take notice that when planning a private jet operation to Mexico there is a NOTAM, though it is not published anymore, it is still active and permanently implemented, and while it does not apply to aircraft flying from the U.S. to Mexico, it is important information for crews worldwide. It states that all aircraft with a destination or stopover in Mexico from the Caribbean, Center, and South America should only use Tapachula and Cozumel as the airports of entry.
List of documents required if you get ramp checked in Mexico.
Airworthiness Certificate
Registration Certificate
Worldwide and/or Mexican Insurance
Pilot's licenses: both sides and stating aircraft type rating.
Pilot's medical certificates
Multiple Entry Authorization (MEA) / Single Entry Authorization
Logbook
Aircraft radio station license/authorization
Flight Manual
Noise Certificate
Minimum Equipment List
Mexican AIP
The preflight checklist.
Weight and Balance Manifest.
Jeppesen Manuals
Private Flight Letter
Although pilots understand that there are always many moving parts in an international private jet operation, our experience at Icarus Jet tells us that providing a helping hand in terms of documentation, safety advice, and landing permits by following local policies provides a needed security blanket to help the crew purely focus on the operation in hand while all the moving parts before, during and after the flight is sorted out by a team of experienced professionals that will provide tangible solutions while maintaining an open channel of communication.