What to consider when chartering a private jet?
The private aviation industry broke all records during 2022 in terms of demand, first-time travelers joining the market, and overall number of global movements. While the market has stabilized and reestablished itself to what experts have called a healthy correction, the sheer growth registered attracted new investors and companies – many of them with little to no background in aviation and no track record of established relationships with operators and aviation authorities.
One of the main things to consider when chartering a private plane is working with an established provider with access to diverse certified aircraft, that understands the different regulations in each country while always going above and beyond to provide a seamless private jet experience. Furthermore, the number of passengers on the journey is a crucial consideration. Private jets come in various sizes, ranging from those accommodating 4-8 passengers to others capable of carrying up to 20 or more. Ensure you have an accurate count of passengers to select an aircraft with sufficient seating capacity and amenities for everyone.
#DidYouKnow The Air Charter Safety Foundation (ACSF) administers a hotline for reporting possible illegal charters in the United States on behalf of the FAA. To report any such incidents, individuals can call the hotline at 888-759-3581 or 888-SKY-FLT1.
How much to charter a private jet
The price of a private jet charter is not one-size-fits-all. It varies based on two crucial factors: the size of the aircraft and the type of route chosen. Larger private jets generally incur higher operational costs. For example, a light private jet can be significantly less expensive per hour compared to a heavy jet, despite covering similar distances in roughly the same amount of time. Turboprops stand out as the most cost-efficient segment in private aviation, making them popular for shorter routes and accessing remote locations with runway limitations. However, they aren't a viable option for international journeys.
For a light jet, a one-way flight covering a top domestic route like Dallas to Teterboro in the U.S. can cost around $16,300. But flying the same aircraft from Dallas to Palm Beach may increase the price to approximately $20,850. For international routes on a super-midsize jet, connecting two cities like Washington D.C. and London might escalate the cost to around $105,000.
From a company's standpoint, the operational costs of a private jet charter involve numerous moving pieces, including fuel costs, crew salaries, aircraft insurance, depreciation, ground handling, and overflight fees. These components collectively contribute to the final price offered to private jet customers. However, it's important to note that the primary factors influencing the overall cost are the size of the aircraft and the chosen route.
The best way to charter a private jet
Especially for those new to the industry, having a clear outlook of the step-by-step process of chartering a jet will prove key to understanding all the moving parts of a private jet flight, from defining the travel to cost transparency and overall experience. We have prepared a checklist with what passengers need to acknowledge when chartering a plane:
Step 1 – Define travel needs:
Determine the purpose of your trip, the number of passengers traveling with you, your destination, travel dates, and any specific amenities or services you require during the flight.
Step 2 – Research charter providers:
Look for reputable private jet charter companies that operate in your region or serve the destination you wish to reach. Compare their services, safety records, customer reviews, and pricing to find the best fit for your needs.
Step 3 – Request a quote:
Contact your selected charter companies with your travel details, including departure and arrival locations, travel dates, passenger count, and any special requirements. Request a quote for the charter flight. Be sure to inquire about any additional costs or fees beyond the base charter price.
Step 4 – Review and confirm quote:
Once you receive quotes from different charter companies, carefully review the details and compare them. Consider the aircraft type, amenities, flight duration, and overall cost. Based on your evaluation, select the charter company that meets your preferences and budget.
Step 5 – Provide passenger information:
After confirming your booking, the charter company will need passenger information for security and manifest purposes. Provide the full names, contact information, and any specific requests or dietary restrictions for each passenger.
Step 6 – Payment:
Make the necessary payment as per the charter company's payment policy. Depending on the company, you may need to pay a deposit or the full amount upfront. Once the payment is processed, you will receive confirmation of your charter flight reservation.
Step 7 – Pre-flight procedures:
Before your scheduled departure, the charter company will coordinate with you regarding the final itinerary, including the departure time and airport location. Be prepared to arrive at the private terminal, known as the Fixed Base Operator (FBO), where you will be greeted by the charter company staff.
Step 8 – Check-in and security:
At the FBO, you and your fellow passengers will go through a streamlined check-in process, where your identity and travel documents will be verified. Security procedures for private jets are generally more efficient than those for commercial flights.
Step 9 – Boarding and take-off:
Once the pre-flight checks are complete, you will be escorted to your private jet. Your luggage will also be loaded onto the aircraft. The pilot or flight crew will brief you on safety protocols and any necessary instructions. Once everyone is on board, the jet will take off, and you'll be on your way to your destination.
Air charter offers convenient access to over 5,000 public-use airports in the United States, which is more than 100 times the number served by airlines. This extensive network allows for seamless travel to your desired destination with ease and flexibility.
Step 10 – Enjoy the flight:
During the flight, relax and enjoy the luxurious amenities and personalized service offered on the private jet. You can make use of in-flight entertainment, have gourmet catering, and make the most of your private space.
Step 11 – Arrival:
Upon arrival at your destination, the jet will taxi to the private terminal. Once the aircraft is parked, you and your fellow passengers can disembark directly from the aircraft to the FBO, where you'll retrieve your luggage and be met by the FBO staff.
Step 12 – After the Flight:
After your journey, you can share feedback with the charter company about your experience. They may also reach out to you for feedback to improve their services. At Icarus Jet, we had made several improvements in our processes and overall experience thanks to the comments provided by our customers.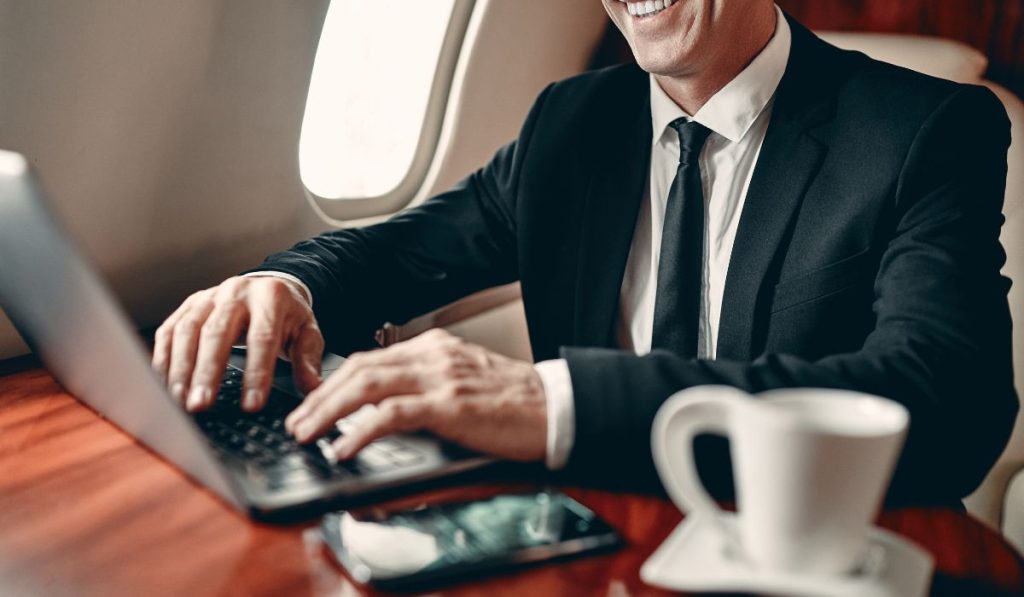 Conclusion
Chartering a private jet might seem like an intimidating process, especially for first-time private jet travelers, but it can be surprisingly straightforward when you have a good understanding of the steps involved and rely on a trusted business aviation company to coordinate every step in the process. They possess the expertise to match the right aircraft with a passenger's specific travel needs, ensuring a seamless and satisfying experience.
In conclusion, chartering a private jet is a rewarding and accessible experience when approached with the right knowledge and preparation. By following the step-by-step guide, individuals can navigate the process seamlessly and enjoy the luxuries of private air travel. Defining travel needs, conducting thorough research on reputable charter companies, and obtaining quotes with careful consideration are crucial steps in making an informed decision.
FAQs
How much is it to charter a private jet?
In simple terms, the cost of renting a private jet can range from $2,000 to $11,000 USD per hour. The lower end of the spectrum applies to turboprop aircraft, while the higher end is associated with top-of-the-line ultra-long-range executive jets. Larger jets could command rates of $11,000 to $18,000 per hour. It's important to note that the rental rate may be influenced by factors like market demand and the age of the aircraft.
In addition to the hourly rate, various fees need to be considered. These include landing fees, ramp and handling charges, segment fees, and taxes. Other costs may include crew expenses, positioning fees, hangar fees, deicing charges, fuel costs, and cleaning fees. Furthermore, clients may choose to incur additional charges for services like catering, concierge assistance, and ground transportation.
Can you smoke in a private jet?
If you are a private jet owner or have obtained permission from the owner, you may be allowed to smoke tobacco on board, provided that the aircraft adheres to the Federal Aviation Administration (FAA) regulations concerning passenger and crew compartment interiors. In such cases, smoking can be permitted and is subject to the specific rules and guidelines set forth by the FAA to ensure safety and compliance with aviation standards. However, it's crucial to emphasize that smoking is generally prohibited on most private jets, and seeking explicit permission and understanding the applicable regulations is essential before considering smoking on board.
What is the best way to charter a private jet?
The best way to charter a private jet is to define your travel needs, research reputable charter companies, obtain multiple quotes, and compare services, safety records, and pricing. Once you've selected a company, provide passenger information, confirm reservations, and enjoy a seamless and luxurious private jet experience.