Introduction: The Benefits of Private Jet Charter in Kenya
Private jet charter allows passengers to control the full extent of their travel experience. That's the main benefit of private jet hire which materializes in being able to arrive only 15 minutes prior to the flight at the private jet terminal, choose the aircraft that adapts to your travel group and overall needs, and even decide where to land the aircraft – usually as close as possible to your destination while avoiding crowded airports.
For private aircraft rental in Kenya, things are no different. Whether departing from Nairobi or Mombasa to any destination in the world, private flights in Kenya will offer passengers the best luxury travel experience in Kenya, with a wide array of aircraft availability. Especially with the inefficiencies of commercial air travel, private aviation serves as the most flexible and reliable option to unlock remote destinations that are not accessible by other means of transportation, while also being the go-to option for business flights that connect with the northern region of the continent or the Middle East.
Exploring the Different Types of Private Jets Available for Chartering in Kenya
Private aviation offers a unique pool of aircraft, which adapts to the travel needs of the passengers and to the operational conditions of each flight. Professional air charter services will guide customers in choosing the best available aircraft, always accounting for the overall budget and specifics of each flight. From reliable turboprops that can operate in short runways of grass or gravel like the Cessna Grand Caravan to comfortable and quick business jets like the Learjet 45, the industry delivers tailored solutions to its customers.
It is also important to highlight that Kenya is an emerging private charter hub in Africa, which is quickly gaining ground on other more established economies in the continent like Nigeria or South Africa in terms of infrastructure, private jet demand, and an increasing number of aircraft being based in the country. This means that there's improving availability of charter planes in Kenya, translating into more options for customers seeking luxury airplanes for their next private jet experience.
Breaking Down the Cost & Prices of a Private Jet Charter Flight to/from Kenya
Aircraft charter prices vary depending on the type of aircraft and the route. While other variables might increase the overall costs, like inflight amenities, those two aspects of a booking will define the private jet cost. For instance, for a light jet between Nairobi and Cairo, the estimated cost for a one-way flight is 34,000, while for the same aircraft from Nairobi to Johannesburg, a much shorter route, the price decreases to 10,000.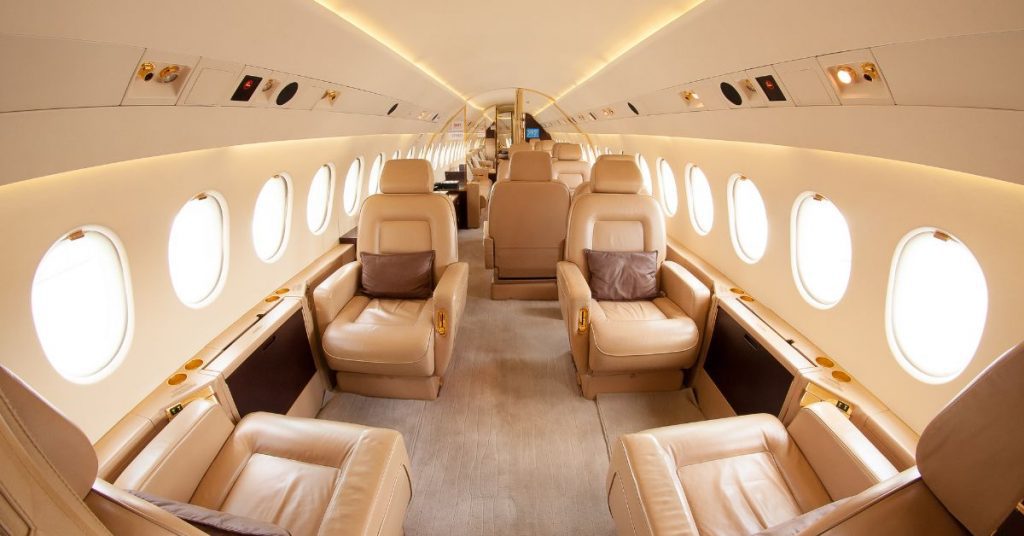 Another highly quoted flight is Nairobi to Dubai, which starts at 38,000 for a one-way flight, connecting Nairobi Wilson Airport with Dubai International. Other variables that can impact air charter costs are the duration of the flight – longer flights might require extra pilots, and whether there's the need to source specific inflight amenities like a flight attendant or supply a specific type of menu for the passengers.
What Regulations & Requirements Should be Followed When Booking a Private Jet Charter Flight to/from Kenya?
Flight safety rules and regulations in Kenya follow international standards and for flights arriving from a foreign country, local aviation regulations demand the operating company a specific set of documents. Here, the private jet provider plays a crucial role in obtaining all the needed documentation beforehand, from securing landing permits to informing all the details of the passengers and crew, aircraft registration certificate, and even the crew employment history. As you can conclude, safety is the main asset of this industry and authorities want to know every detail of all aircraft operating in and out of their country.
Experienced private charter providers like Icarus Jet handle all the details with the utmost confidentiality and always with an open line of communication with customers, while also arranging all the necessary details for the flight. It is important to acknowledge that while some companies can obtain urgent landing permits, it is highly recommended to grant the charter provider a lead time of at least 72 hours to obtain full flight clearance when traveling abroad. This will allow all involved parties to enjoy a seamless travel experience.
Exploring the Different Airports Offering Private Jet Charters in and Around Kenya
The advantages of flying privately also extend to the selection of the airport. Kenya has 6 airports for potential private jet travel, although four of them are great options for passengers thanks to their infrastructure and availability of associated services like refueling. These are Eldoret, Kisumu, Jomo Kenyatta, and Moi airports, with Nairobi Jomo Kenyatta International Airport being regarded as the most prioritized landing and departure terminal for private aircraft in the country.
Moi International in Mombasa is also a great option – sitting in the southeast region of Kenya, it sits close to one of the most coveted destinations in the region in Zanzibar, Tanzania, only separated by a one-hour flight. Whatever the case and destination, the ability to choose as a passenger which airports to use for a flight ultimately reduces costs in ground transportation and precious travel time – allowing travelers to only worry about enjoying a unique private jet experience.
Charter a flight today to and from Kenya and fly beyond the popular destinations by calling +1 888 277 7203 or emailing us at info@icarusjet.com to find out more on how to charter a private jet.