While private aviation is living a healthy correction from what had been a somewhat unsustainable growth during the pandemic, which registered record highs in demand, first-time flyers, and overall global movements, it can be said that the industry has established itself as a necessity for consumers instead of a luxury, as it was perceived in the recent past. Private aviation today is more about connecting locations that lack proper commercial aviation itineraries and moving small business owners and staff to remote locations, than serving celebrities and millionaires. Time is money and private aviation serves as a time machine in that manner.
The benefits of using a private jet are tied to the flexibility it brings to the travel group and overall comfort, granting passengers the ability to choose the departure and arrival times that best suit their needs while flying to smaller airports that are not serviced by commercial airlines. In terms of comfort, passengers have more space to move around and relax, can bring their pets on board, and can choose their own food and drink options. We will review the most popular private jet models and the features that adapt to the requirements of each travel group.
Light Jets
Light jets are a popular category of private aircraft that are designed for short to medium-range flights. These aircraft typically seat between 4 to 8 passengers and have a range of up to 1,700 miles. One of the advantages of light private jets compared to larger aircraft is their lower operating costs compared to larger private jets. They consume less fuel, have lower maintenance costs, and are typically more affordable to purchase or charter. They are also able to operate in smaller airports, which provides greater flexibility in terms of scheduling and routing. Below, are the most popular models in the market today:
Embraer Phenom 300
Embraer's Phenom 300 is the best-selling light jet in the world today. It is designed for short to medium-range flights and can seat up to 9 passengers and crew. It is known for its efficiency and friendly operational costs while offering a cruising speed of up to 518 miles per hour. It is also equipped with several advanced features, like the largest windows in its class as well as having a fully certified lavatory seat – also with a window.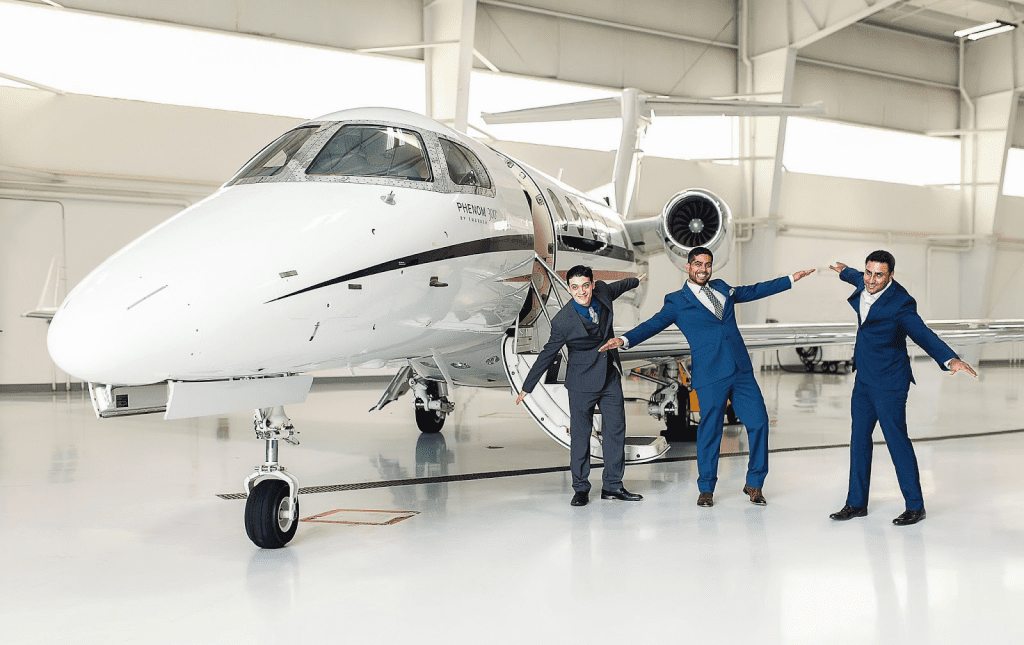 Cessna Citation CJ4
The Cessna Citation CJ4 is a versatile light private jet that has been in production since 2010. It is an upgraded version of the popular Citation CJ3+ and is designed for short to medium-range flights. The CJ4 can seat up to 9 passengers, including the pilot, and has a range of almost 2,500 miles. It features a fully equipped galley and a private lavatory, while passengers can also take advantage of the aircraft's advanced entertainment system, which includes high-definition video screens.
Bombardier Learjet 75 Liberty
The Bombardier Learjet 75 has been in production since 2013 and while it's classified as a light jet, the immense range and cabin space make it seem more like a mid-size private jet. It is the latest model in the Learjet series and is designed for short to medium-range flights. The Learjet 75 can seat up to 8 passengers, including the pilot, and has a range of up to 2,300 miles.
Midsize Jets
Midsize private jets are a popular choice for private jet users who require more range, speed, and comfort than what light jets can offer, but do not need the full capacity and range of a large jet. The latter explains why midsize jets are the go-to option when chartering a jet for a medium-range flight of up to four hours, with the majority of models being very competitive in terms of overall costs. Here are the most popular models in the market:
Gulfstream G280
Savvy private jet flyers can recognize a G280 standing on the tarmac from a hundred yards. Its distinctive shape aside, it's the comfort that this aircraft brings to the table that positions it as a popular option in the segment. It also features a spacious and well-equipped cabin, with a wide array of seating and layout options to suit different needs and preferences. It can seat up to 10 passengers and crew and has a range of up to 4,100 miles.
Bombardier Challenger 350
The Bombardier Challenger 350 is a super-midsize private jet that can seat up to 9 passengers and has a range of almost 3,700 miles. The Challenger 350 is powered by two Honeywell HTF7350 engines, which are designed to be fuel efficient and environmentally friendly. They provide a maximum thrust of 7,323 pounds each and enable the aircraft to reach a maximum cruise speed of Mach 0.83 (541 miles per hour), which positions it as one of the fastest in this segment. 
Cessna Citation Latitude
The Cessna Citation Latitude is a midsize private jet manufactured by Textron Aviation. It was first introduced in 2015 as a replacement for the Citation XLS+ and has since become a popular choice among private jet users, especially thanks to its spacious and stand-up cabin. It can seat up to 9 passengers, with a cabin height of 6 feet (1.83 meters), a width of 6.5 feet (1.98 meters), and a length of 21.9 feet (6.68 meters).
Super-Midsize Jets
Super midsize private jets are generally capable of flying transatlantic routes, depending on the specific aircraft and its array of capabilities. The range of super-midsize private jets can vary from model to model, but many are capable of flying nonstop from the east coast of the United States to Europe, as well as other transatlantic routes.
Gulfstream G500
With exceptional speed and comfort, the G500 has a maximum range of 5,900 miles with four passengers and a crew of two, which means it can fly nonstop from New York to Paris or from Los Angeles to Tokyo. The G500 can accommodate up to 19 passengers in a spacious and customizable cabin, while being designed to be highly fuel-efficient, with advanced engines and aerodynamic features that help reduce fuel consumption.
Bombardier Global 5000
With a maximum range of almost 6,000 miles, allowing it to fly non-stop from New York to Moscow or from London to Mumbai, this large-cabin, long-range business jet manufactured by Bombardier Aerospace has a spacious and comfortable cabin that can accommodate up to 17 passengers. It is widely known amongst private jet owners, operators, and corporate flight departments for its long maintenance intervals and proven overall reliability.
Dassault Falcon 2000LXS
While smaller and with less range than the previous aircraft mentioned in the segment, the Falcon 2000LXS has a spacious and comfortable cabin that can accommodate up to 12 passengers and a maximum range of 4,600. The Falcon 2000LXS features enhanced engines for longer flights and new slats to provide unparalleled short-field capability, which unlocks the capability to land in shorter runways worldwide.
Large Jets
Large private jets offer unparalleled range, luxury, and customization. While they are more expensive to own or charter, they have similar operational capabilities as larger airliners and can cover long distances without the need to refuel, and usually offer passengers unique cabin configurations with conference rooms and even full-sized bedrooms – comfort at its finest.
Gulfstream G650ER
The Gulfstream G650ER is a luxurious and high-performing ultra-long-range private jet with a range of 9,800 miles. It can carry up to 19 passengers and two crew with a fully customizable cabin that can be configured to include features such as a master suite, conference room, and galley. Fun fact: The G650ER holds the record for the farthest and fastest flight in business aviation – It made a 9,642-mile trip from Singapore to Tucson in 15 hours and 23 minutes, beating the previous record by 259 miles and 44 minutes at an average speed of Mach 0.78, or around 597 mph.
Bombardier Global 7500
The Bombardier Global 7500 is a flagship ultra-long-range business jet that sets new standards in performance, comfort, and design. It has an impressive maximum range of 8,800 miles, making it capable of flying non-stop from New York to Hong Kong or Singapore to San Francisco. The model also features an advanced wing design and a powerful engine that allows for a smooth, efficient flight with reduced fuel consumption and lower emissions.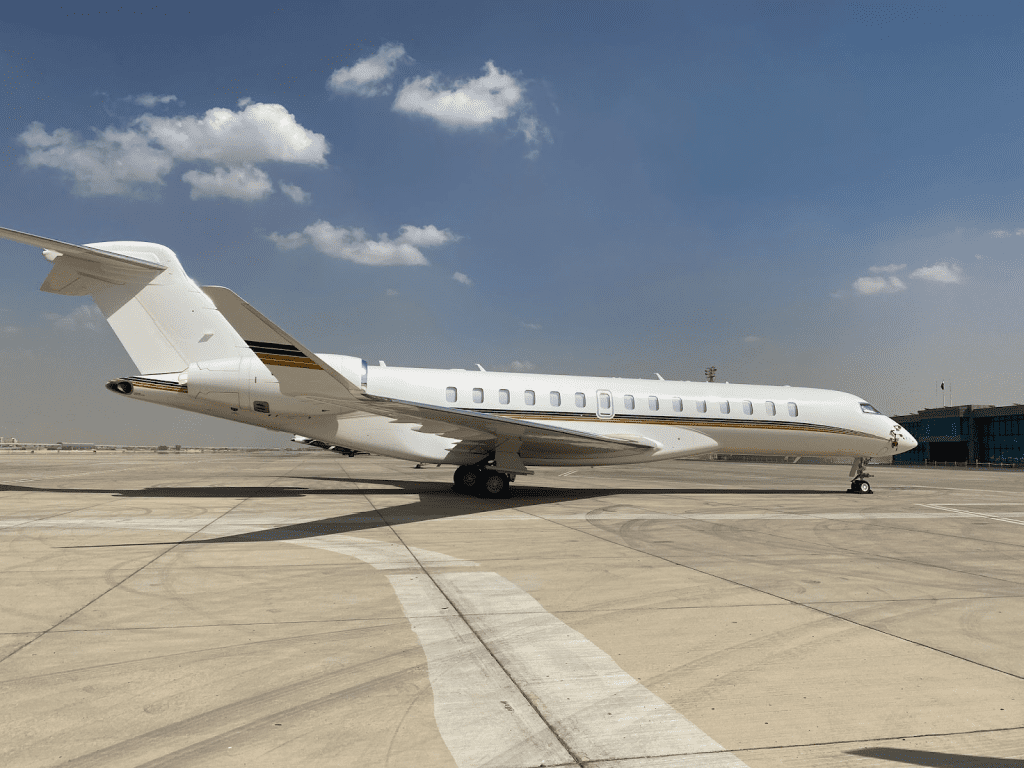 Dassault Falcon 8X
The Falcon 8X has a spacious and comfortable cabin that can accommodate up to 14 passengers. The cabin features three distinct living areas, including a master suite with a full-size bed and en-suite bathroom, a full galley, and a dedicated crew rest area. This model is an expanded version of its predecessor, the Falcon 7X, and is the most spacious jet in the Falcon family.
Comparing and Selecting a Private Jet Model
There is literally a private jet for every travel need. Partnering with the right private aviation provider will prove key to securing the best available option in terms of safety, size, comfort, and budget. With so many options in the market, relying on expert advice especially if you are new to the business is the cornerstone of a seamless private jet experience.
Private jet providers like Icarus Jet will assess your travel needs and preferences and source certified available aircraft by accounting for cabin size and configuration, performance and efficiency, range, and operational capabilities to land in certain runways, and, most importantly, the final cost. Cost transparency and diverse options are also key components of what a reputable private jet provider brings to the table on a consistent basis.
Conclusion
Private jet models come in different shapes, sizes, and costs, and depending on the travel needs and variables that each travel group requires, there is the perfect aircraft to go the distance. How to find that specific private jet? Doing business with experienced private jet providers is the first step to a seamless travel experience, whether chartering a jet for a domestic or international route.
Furthermore, finding the right aircraft will also maximize the cost efficiency of the flight, mainly because a specific group might not need to charter a large cabin jet for a 4-hour flight, and a small or mid-size private jet will do the job while offering reduced operational costs. All these variables are accounted for when booking a private jet to any destination in the world with Icarus Jet.