Private jet trip support services account for many moving parts in a private jet operation, from flight planning, to ground handling coordination and fueling, just to name a few. Yet none is as important as the capacity to adapt to last-minute shifts in planning while also accounting for the safety of passengers and crew. This aspect is only possible thanks to the experience of a trip support company and its relationship with external stakeholders, as well as its capacity to read and understand the moment while leveraging any available resources to provide a feasible solution.
The previous sets the stage for a recent situation experienced by the Icarus Jet trip support team in flight coordination from Malaga in Spain to Palm Beach International Airport, where confusion in the operation date demanded immediate action to provide a solution for the crew, which was ready to operate an aircraft a day before the arrangement made by the company. Good thing that our team has a pre established checklist that plays an instrumental role in sorting out unforeseen circumstances.
Why communication is king when arranging private jet trip support
Have you ever wondered why repetition and cross-checking are so important in aviation? In simple words, its widespread use in protocols and checklists ultimately helps to avoid errors for all those involved in an operation. Communication serves as the channel to materialize both aspects, especially when communicating externally with clients via instant messaging systems, phone, or email. A lack of communication can often result in uncertainties and a gap between the expectations of both parties.
For this specific situation, the Icarus Jet team had coordinated everything for the 18th of May, while the crew expected the operation to proceed on the 17th. What happened in between? The crew wanted to double-check everything for "tomorrow" and the trip support team confirmed that all was good to go, yet "tomorrow" meant different things for both sides due to different time zones. Lack of communication and clarification led to an unforeseen situation that demanded immediate action to find solutions to the diverse moving parts of an operation. Those details will be reviewed in upcoming paragraphs.
In a nutshell, effective communication is essential for understanding client needs, providing personalized services, coordinating logistics, addressing challenges, and ensuring the safety and security of private jet flights. It enables the support team to deliver a seamless and satisfying experience to the client, enhancing their overall satisfaction and trust in the services provided. Most importantly, it clearly sets the expectations for all those involved and minimizes any potential inconsistencies and uncertainties throughout the coordination process.
The race against time
Private jet trip support involves managing and organizing various aspects of a private flight to ensure an efficient operation. These services can stem from flight planning to arranging flight permits, ground transportation for the crew and even fueling. All the previous had to be reorganized immediately as the departure time at that moment was just hours away; through simultaneous tasks, the Icarus Jet team had to correct the mistake and provide a safe and efficient flight as planned.
Multitasking involved rearranging the ground transportation for the crew from the hotel to the airport – which imposed an immediate barrier with language as the driver, a Spanish native, did not speak English. Flight dispatchers were able to communicate with the driver and the crew finally arrived at the terminal in Malaga. Simultaneously, the fuel truck was advised of the change and immediately moved to the location of the aircraft, while other members of the team coordinated the slot, prepared the flight plan, and catering arrangements.
Finally, everything ended up well and the crew was able to depart at the needed time, demonstrating that Icarus Jet has well-established protocols and checklists to act fast and still deliver a safe and seamless service. However, immediate improvements have been established as an outcome of this isolated event, especially tied to the communications realm, to minimize the occurrence of future episodes of this kind.
The value of establishing trust-based relationships
Stakeholder engagement in private jet trip support services involves actively collaborating with various parties who have a vested interest or role in the success of the trip. In order to achieve an aligned operation, effective communication, clear expectations, and a coordinated approach must be applied to ensure that all parties work together harmoniously to deliver a safe and efficient flight.
Building these relationships can take many years, especially if working with international partners, yet the value of achieving proactive engagements throughout the years builds the needed goodwill and immediate action when help is required. For instance, private jet trip support teams must build a relationship with operators to ensure the availability of the aircraft for the desired trip, obtain necessary clearances, and comply with maintenance and operational requirements.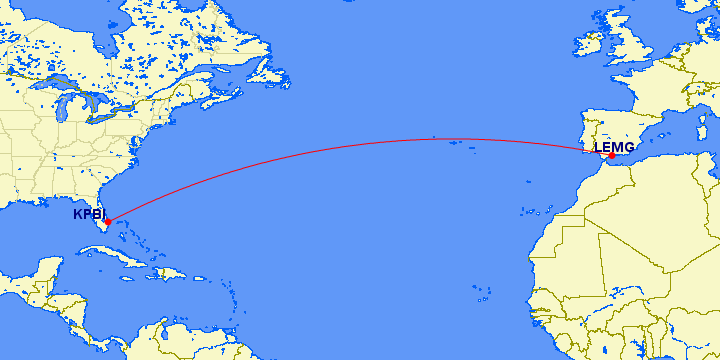 On the same line, private jet trip support teams engage with airports and relevant authorities to ensure smooth coordination – this includes obtaining landing permissions, coordinating ground handling services, complying with security protocols, and adhering to airspace regulations. Effective communication and collaboration with airport personnel and authorities are vital for a successful trip.
Last but not least, the relationships with the clients, whether that's the owner of a private jet, the crew, or the passengers, must be transparent and with an open line of communication. That was one of the keys by the Icarus Jet trip support team to overcome the event; while there was a lack of clarity at the beginning which caused confusion, there was always an open line of communication to provide information to the crew in order to reduce any type of uncertainty.
Conclusion: Mitigating errors while fostering a culture of learning
Errors happen in any type of industry and aviation is clearly no exception. The key is minimizing them and acknowledging improvements. For instance, careful and thorough planning is the foundation for error mitigation. Private jet trip support teams should meticulously review all aspects of the trip, including flight routes, permits, ground services, and passenger requirements while double-checking information and documentation can help identify and rectify errors before they lead to more serious complications.
At Icarus Jet, we have documented processes for various tasks, such as flight planning, ground handling, and emergency response, providing a structured approach and minimizing the chances of oversights or mistakes. Most importantly, we provide ongoing training and education to stay updated with industry regulations, best practices, and emerging trends. Regular training sessions and workshops can enhance the team's skills, knowledge, and awareness, reducing the likelihood of errors caused by a lack of information or understanding.
Yet we cannot stress enough the importance of clear and concise communication among team members, clients, and stakeholders is essential to minimize errors. Documenting all relevant information, instructions, and changes ensures that everyone has access to accurate and up-to-date details. To achieve the previous, using shared platforms and project management tools has helped us centralize information and facilitate efficient communication.
In conclusion, the flight crew of the Malaga – Palm Beach flight was happy with the outcome of the flight and the response and resolve that our team demonstrated. We provide various domestic and international trip support services in a week and in multiple locations, although we decided to share this event with our stakeholders because we believe in transparency with our present and future clients and in a coordinated industry-wide vision for constantly improving global aviation.
We also truly believe in the importance of creating an environment where team members feel comfortable reporting errors without fear of blame or reprisal, recognizing and rewarding individuals who identify errors and report them – this encourages transparency and fosters a culture of learning and improvement. Learning from errors should be an ongoing process and regularly reviewing and reassessing processes, procedures, and training methods to identify areas for improvement must be part of any serious private aviation provider.