Parading through the streets of London is a bittersweet feeling. The wen flaunts majestic architecture, clouded within an endless maze of cobblestone and fog. Londoners are plentiful and different. Essentially, the English capital grooves to a diverse beat.
Ergo, unsurprisingly, London ranks as the world's 10th highest city for its business performance in 2021. It further maintains destination competitiveness by being ranked as the leading city for tourism infrastructure in 2021, which explains the influx of private jet charter visitors to the region despite Brexit and COVID-19 restrictions.
An essential indicator of tourism infrastructure reflects through the airports of the city. London has several well-equipped airports suitable for commercial and general use. Many private jet charter passengers are confused while choosing a London airport. A variety of factors tie into the decision-making process, with location taking precedence over others. Closer airports hit at the crux of jet charter adoption by conserving time. Additionally, London airports vary based on parking costs, slot availability, night flying restrictions, etc.

The international airport is a driving distance of 34.5 miles from Central London, consuming around an hour and a half in traffic at a speed of between 30 to 50 mph. The M1 motorway facilitates business traffic to the city and back. Luton is a European favorite for private jet charter to London. It ranks as the 5th busiest airport for jet charters on the continent. Perhaps this is why you can almost always find a plethora of taxi cabs at Luton. The drop-off and pick-up fees here are the highest in the UK, priced at 300% more than the lowest rates.
Luton is accessible 24/7. However, night flight movements took up 12% of the total aircraft movements in 2020. Night quota set between 11:30 pm to 6:00 am is determined by a quota count (QC). It rates aircraft types based on the degree of noise pollution. For example, the Challenger series has a QC of 0. Meanwhile, Luton fined two private aircraft operators 1000 GBP each for noise violations in 2020. Daytime landings cost around 943 USD. Landing fees at night employ an additional surcharge of over 500 USD. The parking fee is charged at an hourly rate of 80 USD, which is astronomical. Security screenings are also separately added to the cost. Harrods Aviation and Signature Flight Support are the two FBOs at LTN.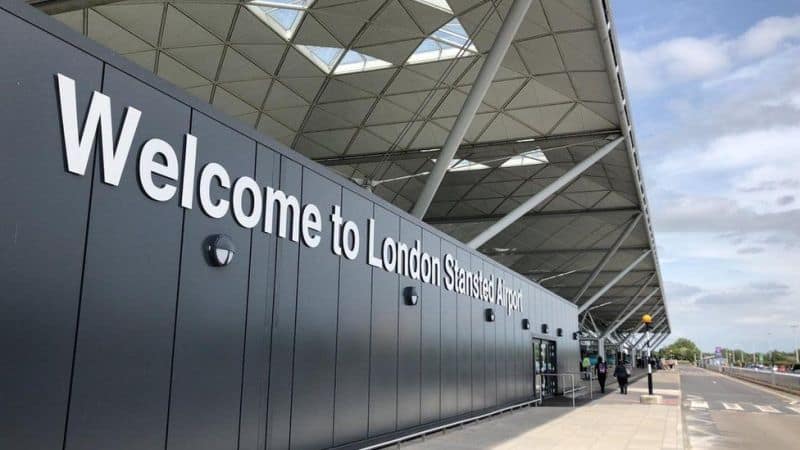 The M11 motorway connects Stansted Airport to London by 38 miles. A car ride is approximated to take an hour and a half on this route during traffic hours. Parking for general aviation is massive, and slot availability is not an issue during non-vacation seasons. Even though the airport is open around the clock, night curfews are assigned based on aircraft type & traffic between 11:30 pm and 6:00 am. A Gulfstream II does not pass the noise cut-offs, so private jet charter passengers on such an aircraft cannot depart after 11:30 pm.
Stansted may seem to facilitate some degree of landing and take-off during the night, but it reportedly "closes" for some time. Passengers can stay in the lounges, but the shops and eateries all essentially sign off. However, this hardly disrupts business aviation, so charter to London through STN remains popular to date. Landing fees at night are 66.7% pricier than daytime. Aircraft parking is assigned at 23 USD per hour, much cheaper than Luton. There are several FBOs to choose from, two maintenance operators and four fuelling service providers.
Notorious among British political candidates and targeted as a wasting landmass, the London City Airport brings lower profits than projected. With closest proximity to Central London at a distance of only 8.6 miles, the airport has some restrictive covenants due to its location in Greater London. The traffic is congested, and the speed limit in the city is 30 mph for cars. Traversing this small mileage consumes over 35 minutes. The airfield is unusable for a few aircraft types due to the runway's ILS steep approach. However, private jet charter passengers prefer this airport due to its location and infrastructure. It facilitates business executives by providing conference rooms, spacious waiting rooms, etc – all the while being close to the commercial heart of London.
Pilots require special training to be able to land on LCY. The airport is open from 6:30 am to 10:30 pm on weekdays. On Saturdays and Sundays, it opens for the former and latter half of the day respectively. Effective from 1st April 2022, the landing fee charge is distributed based on premium, peak, shoulder, and off-peak hours. The general aviation fee required is 1,875, 1,670, 990, and 501 GBP for each time slot. Saturday is entirely off-peak, so a private jet charter to London City is best scheduled on this day of the week. On a positioning flight, the landing fee for shoulder and off-peak hours get waived off by 75% and 50% – respectively. Aircraft parking is free for the first 40 minutes, including take-off and touch-down. Subsequent hours and overnight parking are both charged at 162 GBP. The airport is on the priciest on the list.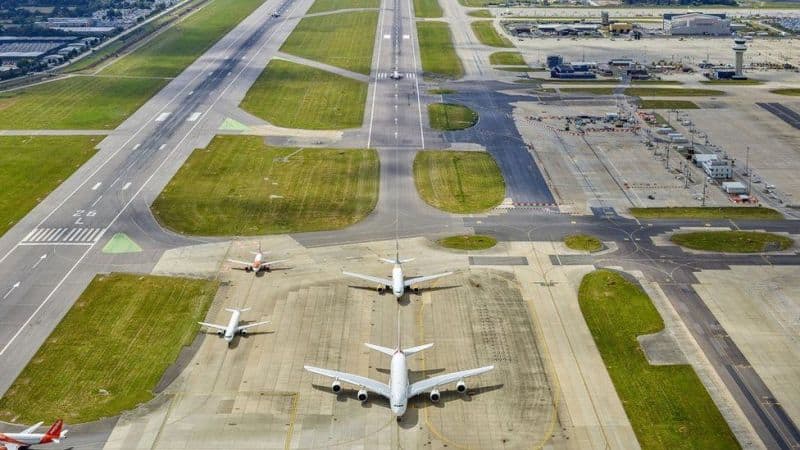 The award-winning airport is 33 miles from London and a drive of 38.6 miles away from the downtown. The estimated time in traffic is around 1 hour and a half. The airfield sports two runways, but hindsight revealed problems. One runway is dependent on the function of the other. So, only one of them works. It may have caused several delays in commercial flights. The airport is open for 24 hours, but all outlets close after midnight. VIP passengers have access to separate lounges, and it is easy to hail a cab to Central London via the M23 motorway.
Fixed-wing aircraft and helicopter landings during off-peak hours (7 pm to 5 am) cost 610 GBP. Between 5 am and 9 am, the rate by 4.5 times. The rest of the clock is charged at a standard 1830 GBP. Parking is complimentary between 10:30 pm to 5:00 am. Otherwise, a scale of weight is adopted per 15 minutes. Weights less than 50,000 kg are priced at 9 GBP. The rate doubles forward.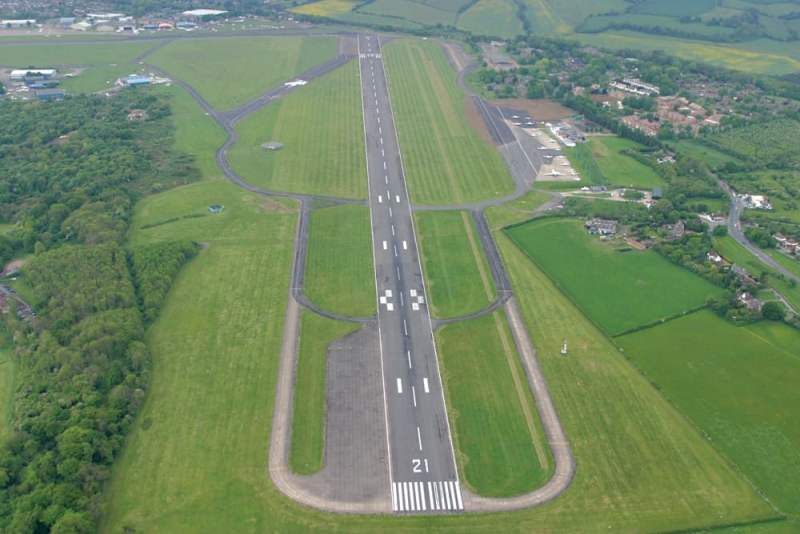 Biggin Hill is a local countryside airport, approximately 16.6 miles away from Central London. However, a drive consumes a little over an hour because the adjoining road is not a motorway. The A124 carriageway has lower speed limits. The airport has a history with the royal airforce operations in WWII, but now it is preferred by private jet charter travelers. Additional services for private jet passengers are also available.
Slot availability is accommodative, and hangar costs are cheaper than most. Landing pricing is based on the international and domestic nature of the charter. Moreover, aircraft parking is billed daily at a rate of 350 USD with zero charges for the first two hours. The airport is functional between 6:30 am to 11:00 pm on weekdays and operates from 8 am to 10 pm on weekends. The weekend and public holiday timings are more permissive than other bounded airport operations.
A drive 45 minutes away from downtown, Heathrow Airport may seem like an ideal option for a jet charter to London. However, it caters to an influx of the world's third-highest international passenger traffic, making private slot bookings extremely tedious and improbable. The royal family is reported to engage in departures and arrivals through this airport, so the facilities are guaranteed to be top-notch. VIP clients may use Terminal 6 for their private jet charters.
Royal Suite charges are mandatorily collected here at 3000 GBP per jet charter. Between 10 pm to 6 am, parking charges are nil. The first 30 minutes of parking is guaranteed to be free as well. At all other hours, narrow-bodied aircraft cost 30 GBP per 15 minutes. Landing fees for helicopters are fixed at 1584 GBP. Night-time is limited to 5,800 annual take-offs and landings, with a smaller quota for winters.
The military is in-charge of Northolt, overseeing operations of several RAF aircraft. It is approximately 14 miles away from Central London through a drive of 40 minutes on the A40 carriageway. Private jet flights are limited to 40 per day, while civilian passengers cannot exceed 29 individuals per plane. The Cirrus Vision SF50 and the Stratos single-engine jets are not authorized to land at Northolt. For London private jet charters, this airfield grants an enormous degree of security and privacy.
The airport is open for operations between 8 am to 8 pm on weekdays only. Public holidays and weekends do not see airfield traffic. Smoking is severely prohibited in the entire region, even outdoor areas. The first hour of airplane parking is free of charge. After that, an hourly rate of 15 GBP is charged. The landing fee is restricted to 285 GBP for aircraft up to 5000 MTOW. Just debit and credit card payments are accepted here. The only pets acceptable onboard are cats and dogs from the UK, Ireland, Isle of Man, and the Channel Islands.
FAB is an exclusive airport for private jet travelers. That makes it a perfect site for airport film shootings for some of Hollywood's biggest hits. The infrastructure is classy, stylish, and modern. Aircraft bigger than Boeing BJ2 are restricted from operating on the premises. The airport is located about 40 miles from Central London and connected via the M3 motorway. It takes an hour or so to reach the city downtown on this route. The airport operates between 7 am to 10 pm on weekdays and between 8 am to 8 pm on weekends and holidays.
Farnborough's FBO is credited as the best on the entire continent; gaming consoles, shower rooms, and private lounges are available for passengers. The price per helicopter landing stands at 265 GBP. For jets, it depends upon their weights. The scale begins at 7.5 tonnes for 605 GBP. Parking for the first two hours is free of cost, and increments are charged based on the wingspan of the vehicle. A jet with a wingspan less than 16 m is priced at 27 GBP per hour. Overnight parking starts at 780 GBP per night. The Pet Travel Scheme at FAB lists 300 GBP per pet and 125 GBP for additional ones.
Airports available on the outskirts of London are Oxford and Southampton. Too far from London, they are primarily employed for long-term parking and weather diversions. Passengers optimizing cost, distance, and privacy will each find a different airfield suitable for London private jet charter.
At Icarus Jet, we make sure that our clients are allowed to select the airport that suits their needs. We consider the timings, landing fees, parking costs, the location, and every other plausible factor to serve our passengers.
Request a charter quote for a private jet charter to London by calling us at +1-888-277-7203 or sending an email to info@icarusjet.com.