The flight time between Cairo and Jeddah is about 2 hours and 5 minutes. One of the most requested private jet flights from the city of Cairo. The call-out for this flight is about 3 hours from the time the flight is scheduled. The time for departure on a private aircraft from Cairo to Jeddah could be longer, and it depends upon the Saudi Civil aviation approval of the landing rights, which can take a few hours or more. There are plenty of options offered by Icarus Jet for business aviation flights from Cairo to Jeddah.
The expertise gathered in this particular pair of cities, and their high volume of requests makes our charter team members stand out of the crowd and reduce the private jet charter rates by data analysis of the empty legs available every day from Cairo to Jeddah.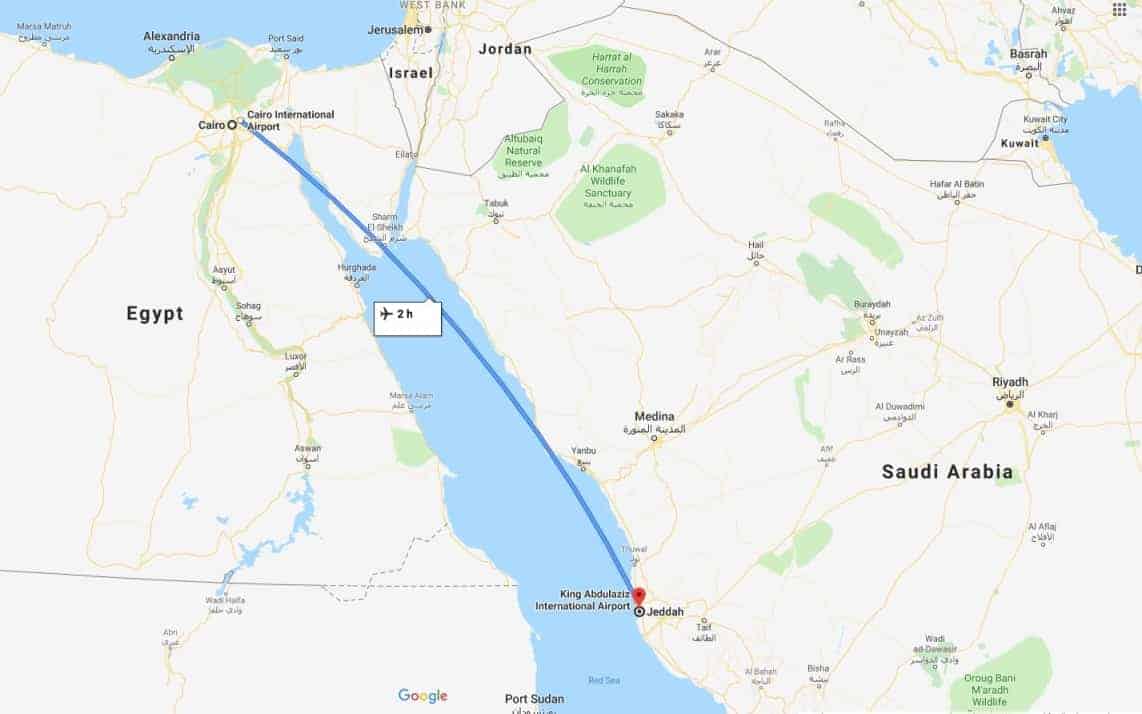 Cairo, Egypt is the most populous city in Egypt, and it severely lacks General aviation facilities. The cost of a private aircraft rate from Cairo to Jeddah is around 18000 USD for a one-way dropoff. Icarus Jet can curate aircraft that fits your needs from a Light Jet to a Super Mid-size or a Mid-size jet. Please call us at +1 888 277 7203 to speak with a Jet charter analyst.
Icarus Jet offers some of the most cost-effective rates on this particular route with the Industry-leading ARGUS and WYVERN audited operators. This makes the rates lucrative and the safety of the passengers impeccable. Please see some of our jet charter rates from Cairo to Jeddah.
Jet Charter Rates From Cairo to Jeddah
King Air 350i– 18000 USD for a round trip
A versatile workhorse of the aviation industry with a proven safety record. The King Air is a quiet cabin turboprop, wifi equipped aircraft with seating for eight people.
Citation XLS– 20000 USD for a round trip.
One of the best aircraft produced by Citation, with a 5-hour range and ample cabin space for eight people.
Hawker 850 XP– 19000 USD for a round trip.
This mid-size can seat eight people and comes with a full galley with catering and a flight attendant.
Private Jet Airports In Cairo
Cairo international airport and Cairo Sphinx Airport offer 24-7 departure and arrival services to the city of Cairo, Egypt. Cairo Sphinx airport is mostly used for General aviation and private aircraft traffic, and it is closer to the 6th of October city and downtown Cairo. Cairo International Airport is closer to Heliopolis, and it is the second busiest airport in all of Africa.
Private Jet Airports In Jeddah
King Abdul Aziz international airport is the main airport in Jeddah, Saudi Arabia. The airport is located about 19 KM from the city of Jeddah and has two terminals and three runways. Jeddah airport has an individual terminal for the pilgrims of Hajj and It also has a separate ramp and parking area for General aviation aircraft which are served by Jet Aviation FBO.