One of the best tourist destinations In Mexico is Cabo San Lucas. Best known for its beaches, haciendas, food, and Whale watching. If you are looking for an escape during the uncertainty and the lockdown In Texas due to COVID-19 we highly recommend a vacation in Cabo San Lucas, It is hard to imagine that most things that we had taken for granted will become a luxury item—going to the gym, getting together with friends, or planning a travel to some far-flung place. The year 2020 is essentially cancelation of what used to be healthy. Fortunately for us, the private jet travel has been a saving grace. As the domestic infections of the COVID-19 spikes in a state like Texas and Florida, tourist hot spots across Mexico like Cabo San Lucas and Cancun have taken extreme measures to curb the pandemic and making these resort towns available for vacations.
Mind you that non-essential travel from the USA is not allowed to Mexico unless you are traveling in a private aircraft. Flying in a chartered jet to Cabo San Lucas from Dallas makes it easy because you do not need to clear a TSA check, and there are no quarantines required upon disembarking in Cabo San Lucas Airport or San Jose Del Cabo Airport.
Hire a Private Jet charter from Dallas to Cabo
When the entire world is in a lockdown, Mexico is open for business. Cabo San Lucas is not only safe but also a pleasant 2 hours and 45 minutes of flight time away from Dallas Love Field airport. Icarus Jet charter can curate a flight from Fort Worth Meachem field airport or Dallas Love Field and Adisson Airport. From a Light Jet to a Super Mid-size or a Mid-size jet, all it takes is a phone call to +1-888-277-7203 and speak with a Jet charter analyst. We offer some of the most cost-effective rates from Dallas to Cabo San Lucas with the Industry-leading ARGUS and WYVERN audited operators. This safety audit makes the rates lucrative and the safety of the passengers impeccable. Please see some of our jet charter rates from Dallas to Cabo San Lucas.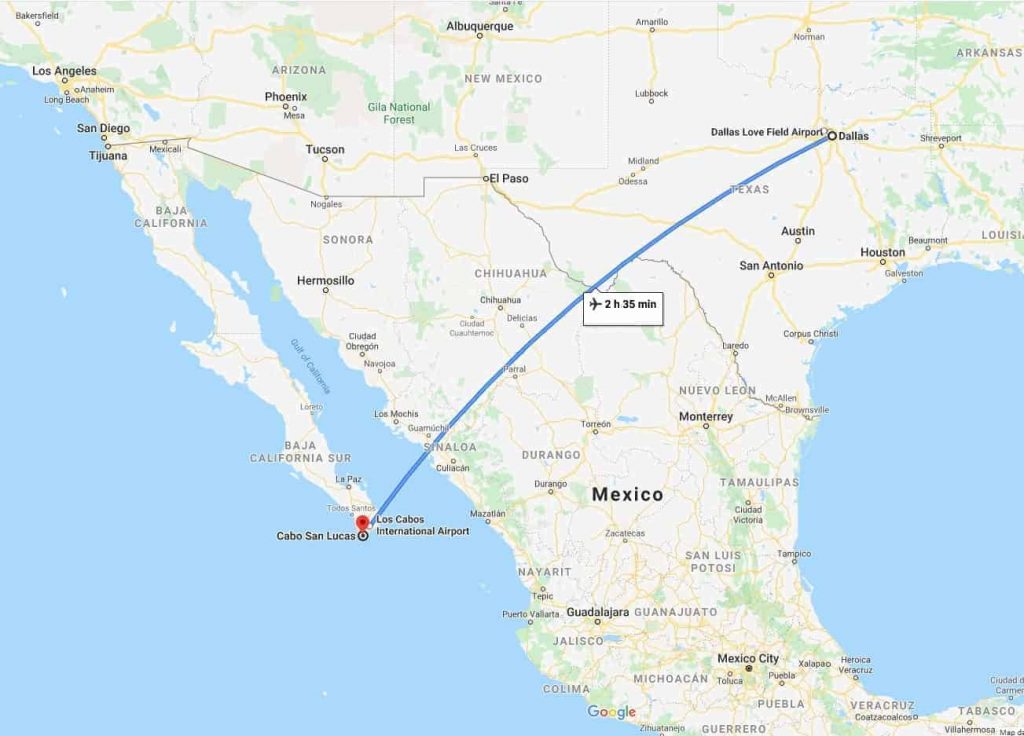 Jet Charter Rates From Dallas to Cabo San Lucas
Citation XLS– 32000 USD for a round trip.
With a stand-up cabin and a lavatory and a galley, this aircraft also makes for a comfortable 6 hours coast to coast flight. Club seating with a Divan in the back, it makes for a wonderfully accommodating eight-seat airplane.
Hawker 850XP– 29000 USD for a round trip.
This mid-size jet can seat eight passengers and comes with a very small galley with snacks and drinks. The lavatory is well-equipped with sink, cabinets and it is almost a stand-up cabin.
Challenger 350– 450000 USD for a round trip.
This luxurious super mid-size aircraft has a stand-up cabin and a full galley with microwave and oven. The Lav is stand-up, and the Divan and club seats can easily be converted into lay-flat beds.
Private Jet Airports In Dallas
We offer Privet jet flights from Dallas Love and Addison airport, But there are plenty of options for departures for private aviation. Our private jet passengers can also choose to depart from Dallas Executive Airport and Dallas Fortworth Airport.
Private Jet Airports In Cabo San Lucas
Cabo has two airports, and they are about 45 minutes of drive time from each other. San Jose del Cabo is the main airport that servers the airlines and the private aircraft alike, but it is 45 minutes of drive time to Cabo San Lucas. We recommend that you also use Cabo San Lucas International Airport, which is only 15 minutes of drive from the famous Arch and the Marina Del Rey in Cabo.